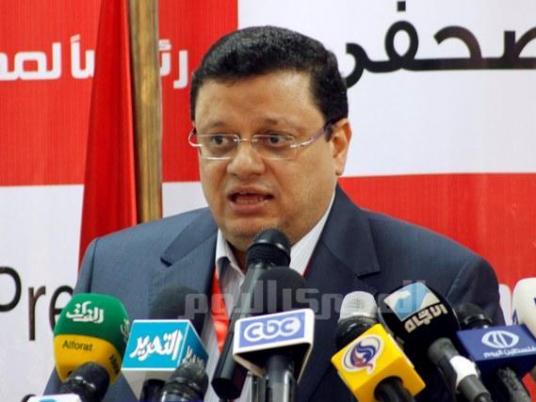 The political investigations team of al-Matareya and New Cairo, in cooperation with the National Security Agency, arrested Abdel Wahab Abdel Maqsoud, Professor and Chairman of the Department of Entomology at the Faculty of Science, Benha University for possessing documents and leaflets for the Muslim Brotherhood.
Abdel Maqsoud is brother-in-law of toppled President Mohamed Morsy's former spokesperson Yasser Ali.
The seizures belonging to Abdel Maqsoud included documents belonging to Morsy's presidential team, a plan over the the anticipated events of 30 June, an unfinalized copy of a speech by Morsy, letters exchanged between government agencies under Morsy, CDs belonging to Ali and the FJP, Rabaa sign, an iPad and a mobile phone.
A security source at Cairo Security Directorate said the prosecution had issued an arrest warrant against Abdel Maqsoud before being arrested over charges of planning for pro-Muslim Brotherhood protests and inciting the use of violence against the state institutions and security forces.
The new interim government has stepped up their crackdown against those suspected of having ties to the Muslim Brotherhood since it was declared a terrorist organization in December. Police has since arrested many individuals merely for posessing literature espousing Brotherhood views.
Edited translation from Al-Masry Al-Youm