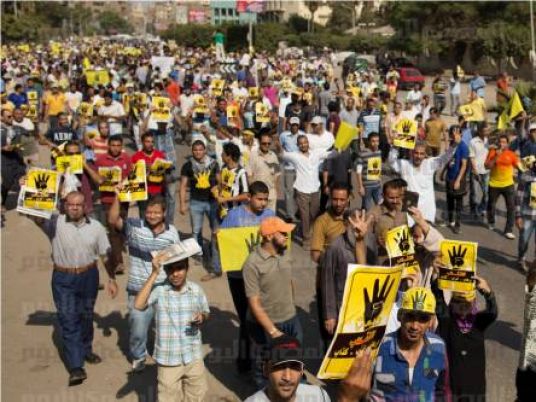 The Muslim Brotherhood called on its supporters, describing them as "freemen," to continue staging massive marches nationwide because the "coup is about to fall."
The statement denounced the killing of protesters in Alexandria and Nasr City during last Friday protests.
"We condemn the criminal aggression that took place in Alexandria [Friday] when an army armored vehicle ran over peaceful demonstrators in one of the side streets, beside the killing of a young man in Nasr City by shooting him in the heart, and another in Sharqiya," the statement said.
"The continued protests over 100 days, extending from Arish to Matruh and from Alexandria to Aswan, where people from all spectrums of society and professions participated including men and women, male youth and female youth, and even children came as a definitive guide to the strong insistence on bringing down the bloody coup," the statement read.
"The military coup leaders have no place in politics and governance, the army's sole place is the border in barracks," it added.
The statement accused the "coup leaders" of alleging a war against terrorism, while they actually carried out the "most heinous types of violence and terrorism against peaceful demonstrators."
According to the statement 60 protesters were killed over the past week and hundreds were injured.
The statement claimed that brutality against protestors demonstrates the weakness of the coup leaders who cannot find a way out of the dilemma they caused.
The statement called on anti-coup demonstrators, describing them as "freemen" to continue protesting to liberate the coming generations and homeland of corruption, tyranny and ruin.
Edited translation of Al-Masry Al-Youm