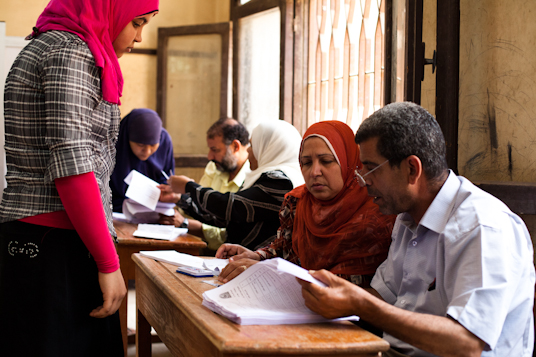 Muslim Brotherhood sources said Friday that the group has developed a plan to monitor the presidential runoff election and counter fraud.
The plan includes monitoring the entrances of cities and villages to detect groups of voters who could be moving between governorates to cast votes in more than one place.
The Muslim Brotherhood's Mohamed Morsy will compete with Ahmed Shafiq, former President Mubarak's final prime minister, in the runoff on Saturday and Sunday.
Brotherhood leader Karem Radwan said Morsy's representatives in polling stations have been instructed to be on the lookout for violations.
"The party has taken precautions to monitor and secure the electoral process and will counter fraud both legally and through the media," he said.
Mohamed Abdallah Seif, a Brotherhood leader in Beni Suef, said the group "will mobilize voters to vote for Morsy in the runoff election and will work on prompting people to go to the polls for this purpose."
A Nour Party spokesperson said his party "will cooperate with Morsy's campaign to monitor the elections process during the runoff." He added that the party's youth members will be present in polling stations to report violations to the Presidential Elections Commission.
"The Salafis have gained electoral experience and have now the ability to mobilize voters to the polls," he said, stressing that the Nour Party has instructed its members not to violate the law by campaigning outside polling stations.
Morsy's campaign said in a statement Thursday that it is confident that their candidate has a "very good chance" of winning the election." The campaign called on Egyptians to go "in millions" to vote in the runoff.
Edited translation from Al-Masry Al-Youm