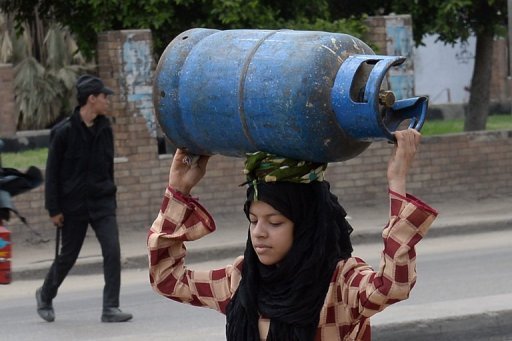 The shortage of butane gas cylinders has brought back the primus stoves that our grandmothers used. Al-Masry Al-Youm went to the Taht al-Rabea area in Old Cairo to talk to people in the trade. It is the only place left in Egypt that still manufactures primus stoves.
Sherif al-Masry sits inside his shop, which ​​barely accommodates two people, fixing an old primus stove. Behind him is a wooden display window with more of the stoves on the shelves.
"The misfortunes of some are the advantages of others," he says smilingly. "We sell in one day now what we used to sell in three months, thanks to the shortage of butane gas cylinders."
The poor, who cannot afford to pay LE100 for a cylinder, are not the only ones to buy primus stoves, however. The rich buy them too, but as collectors' items. "I sell a stove from between LE120 and LE160 pounds, depending on the size," explains Masry.
The shortage has also helped increase the sale of materials used in the manufacturing of the stoves, such as linen strips and metal needles.
Ahmed Haroun also makes primus stoves. "They must be well sealed so as not to leak smoke," he says. "The base consists of two welded parts and the bowl is fixed on the top."
Abu Nawal, another salesman in the industry, inherited his profession from his father and grandfather. He sells the kerosene that fills the primus stoves. He does not mind the smell of his clothes, nor is he ashamed of his dirty hands. He walks the streets under the blazing sun of the summer and in the bitter cold of winter, hawking his product.
The shortage did not make him raise the price of a liter to LE3 from LE2, like other vendors. "I cannot do this to the poor like myself," he says.
In a small room at the end of an alley sits Khamis. He refills the small cylinders for ten pounds. "I work more now, thanks to the shortage," he says coughing. "I have a chronic allergy from working here for seven years."
Rehab Ashraf, a customer, has a slightly different view about the shift in the gas business. She complains that vendors mix the kerosene they sell with water. "I cannot find a butane gas cylinder and now my primus stove is not working because the kerosene is mixed with water," she says.
Edited translation from Al-Masry Al-Youm