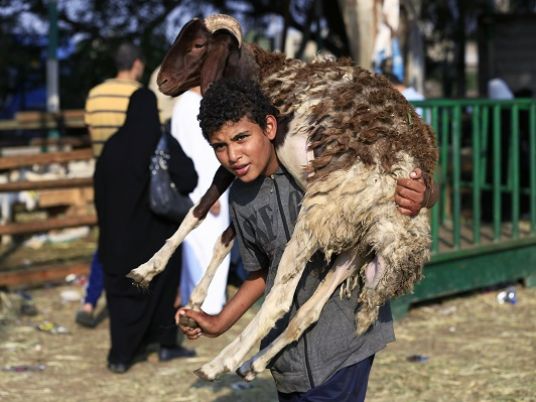 Slaughtering sacrificial animals is a specific tradition carried out by millions of Muslims all over the world during Eid al-Adha. In recent years, however, many Egyptians and animal rights activists have spoken out against the practice, arguing that many butchers ignore "religious edicts on humane slaughter, and basic hygiene."
This issue was raised once again earlier this week, when someone decided to launch the "I won't slaughter for Eid," hashtag on Twitter, sparking outrage on the platform in Egypt and Saudi Arabia.  The issue of "brutal slaughter" is an ongoing debate that usually causes societal backlash among many, stirring controversy both online and off.
Many people supported the hashtag. One Egyptian tweeted that they "wish there was an organized, systemized manner for the slaughtering to take place so that people who are against how the act is currently carried out would also get to enjoy their Eid."
Another tweet said that the same way that Christmas has become the "peak time of animal suffering in the West" with a vast numbers of factory farmed animals slaughtered for Christmas celebrations; Eid al Adha is "the worst time for animal suffering throughout the Middle East."
Egyptian animal activist Rania Dabbagh, told Egypt Independent that she would not be involved in the animal sacrifice "as long as slaughterhouses do not abide by set standards and regulations."
"I'd rather give away money or cook for the poor myself than be part of brutal, inhumane, mass slaughters the way they happen right now," Dabbagh said.
She added that animals are not supposed to be tied before the sacrifice, nor witness each other being slaughtered.
"How many slaughterhouses actually care or take notice of this," she asked.
Eid al Adha commemorates the the old testament story of Ibrahim, who was willing to sacrifice his son, Ismail, for God. According to the story, Ismail was saved when God saw Ibraham's faith and gave him a ram to sacrifice in place of his son.
Muslims around the world honor Ibrahim by slaughtering sheep, and distribute the meat to the poor or cook it and share the meal with family and friends.
Traditionally, many families choose to slaughter the animal themselves rather than buy meat from a butcher, and the smell and sight of blood fills the streets of many towns and cities. These scenes create dramatic visuals for animal rights group defenders, who maintain that if done properly, traditional slaughter is a relatively humane way to kill an animal.
Mohamed Eid, a butcher near Heliopolis said that the chaotic visuals of blood around the streets in Cairo happen due to people looking for "easy" options for their sacrifice.
"My clients know me, and they know that I respect God in how I deal with the animals. I don't slaughter in the streets, but still, I think the people who do are not to be blamed, they are trying to find a faster and cheaper option," Eid said.
He added that slaughterhouses should ideally follow certain guidelines that Islam has put to ensure that the animal is well treated before, during and after slaughter and those who defy these rules should be punished.
"But who will look after all those slaughterhouses, people just want to eat and sleep in Eid, no one monitors anything, so mistakes go unnoticed," Eid pointed out.
Moneim, however, is another butcher in Heliopolis who owns a slaughterhouse, but still offers slaughter of sheep at building garages as an "extra service."
"My clients are usually elders who find it difficult to wait for hours at slaughterhouses. I go to them and we finish everything off very quickly, but I try to clean up afterwards," Moneim said.
He added that he tries to accommodate the different requests of all his customers, and that at the end; he treats the animals right and does what "satisfies his conscious."
This week, Egypt's Ministry of Endowment released a statement in which it noted that slaughtering animals in streets is not legal and is a violation of Islamic law. The ministry called on Egyptians to suspend such activity as these practices are considered uncivilized.
Meanwhile, member of the agriculture committee of the Parliament, Magdy Maalk, called on the state to monitor the streets, with the beginning of the feast's first day.
Egyptian law includes codes that prevent citizens from slaughtering animals outside the state-run slaughterhouses or even selling meats that do not carry the state stamp, the code puts any violator ahead of penalties that could result in confiscation of the animal itself and possible imprisonment.