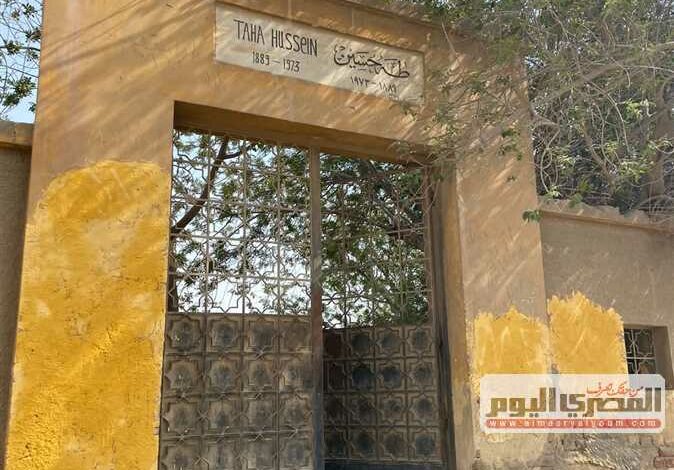 Cairo authorities have backed off of demolishing the grave of novelist Taha Hussein, following a campaign launched by Al-Masry Al-Youm opposing the move.
Hussein, who passed away on October 1973, was laid to rest in the family graves of the Khalifa area.
Controversy erupted after information came to light that authorities planned to demolish the grave in order to expand a road.
Hussein's grand-daughter Maha Aoun confirmed that all signs indicate that the official move to tear down the grave has been rolled back.
She added that she hopes that this will be a good gesture and that the author's family be allowed to visit their cemeteries in peace, as it includes beside Hussein's tomb several graves and trees that can't be transferred elsewhere.
The Cairo Governorate officially responded to Al-Masry Al-Youm's campaign that it did not intend to remove the grave.
Hussein held the position of the former Egyptian Minister of Education, and was amongst most renowned of those who pursued scientific research in Egypt.
The controversy first began after it was reported that the letter 'X" had been written on the tomb of Hussein, leading to outrage. After its removal, the situation died down until three months later, when the word "removal" was found on the grave.
An informed source in Cairo Governorate told Al-Masry Al-Youm that the tomb is in front of a road that is supposed to have expansions in order to connect several axes in Greater Cairo and complete the construction of the Yasser Rizk axis, in an effort to relive traffic congestion.
A gem of Arab literature
Author and Critic, Hussein died in 1973 but not before transforming Arab literature and providing a valuable and pioneering contribution to autobiographical work with his book Al-Ayyam (The Days), published in 1929.
Hussein is also a leader of the Arab Renaissance and modernist movements in the Arab World.
Born in Minya, he later attended Al-Azhar University, where he was educated in religion and Arabic literature. Hussein was the seventh of thirteen children, hailing from a lower-middle class family. He became blind at the age of three due to faulty medical treatment.
In 1942, he was appointed adviser to the Egyptian Minister of Education and, in 1955, assumed the ministerial position. Hussein pressed for free education for all Egyptians.
President Gamal Abdel Nasser bestowed on him the highest Egyptian decoration, typically reserved for heads of state.
Among his most important works are Fi Tagdeed Zekra Abi al-Alaa, The Memory of Abu al-Alaa, Maa al-Motanabbi (Together with al-Motanabi) and Gannat al-Shawk (Paradise of Thorn).
Hussein translated a number of important books into Arabic.
Edited translation from Al-Masry Al-Youm