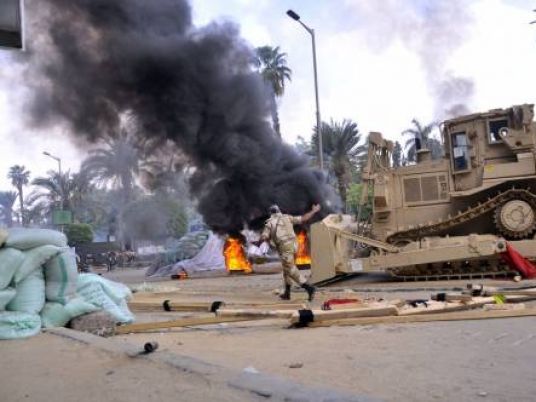 Security authorities at Cairo and Giza have tightened measures and raised alert preparing for possible violence on the second anniversary of the deadly dispersal of Muslim Brotherhood sit-ins staged at both provinces following the ouster of former president Mohamed Morsi in 2013.
Security authorities have ramped up their measures at Cairo's Rabaa al-Adaweya Square (now named after Hisham Barakat) and Giza's al-Nahda Square, both sites of landmark sit-ins that demanded the reinstatement of Morsi but forcibly dispersed later by security, leaving hundreds dead.
Cairo Security Directorate installed barbed wires at the entrances and exits of Rabaa al-Adaweya, allowing only the passage of pedestrians to facilitate security searches. A meeting by the capital's security officials ended with agreement to deploy bomb squads and police dogs at the area, as well as installing monitoring cameras.
Security sources told Al-Masry Al-Youm that the measures were taken after pro-Brotherhood activists called for protests on the occasion, adding that police detectives have intensified their investigations to identify people behind the calls for protests.
The sources said security leaderships had given directives to "violently" confront any attempts to assault citizens or public utilities.
In Giza, police departments halted vacations for all ranks, also ordering bomb squads to comb the vicinities of embassies, banks and courthouses. Sources said security was also intensified on Giza's borders with nine provinces in order to block the possible flow of protesters from outside.
While Human Rights Watch said the dispersal of sit-ins in Rabaa al-Adaweya and al-Nahda represented "the most serious incident of mass unlawful killings in modern Egyptian history", with several other foreign commentators condemning Egyptian authorities for the killings, the National Council for Human Rights, in a 2014 report, said both police and protesters were to blame for the killings. The NCHR said that while police used "excessive force", protesters turned from peaceful to armed confrontation.
Encounters between police and Morsi supporters on the first anniversary in 2014 left at least five killed, according to official data.
More than 370 are being tried over the violence which occurred during the disperal of al-Nahda Square sit-in, while Brotherhood Supreme Guide Mohamed Badie and several other group leaders were referred to criminal trial on Tuesday over the violence that took place during Rabaa al-Adaweya sit-in breakup.
Edited translation from Al-Masry Al-Youm