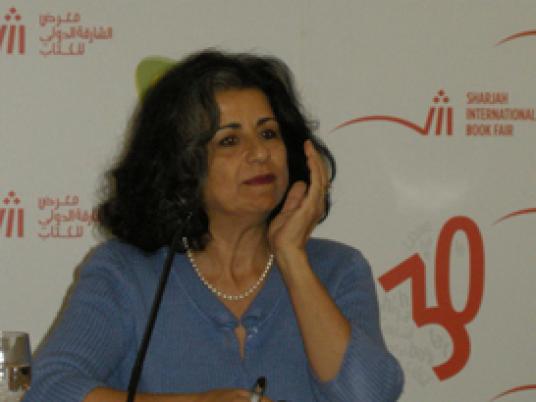 During a brief visit to the 30th Sharjah International Book Fair, acclaimed Egyptian novelist Ahdaf Soueif gave a first public reading from her forthcoming memoir, "Cairo: My City, Our Revolution."
Soueif arrived in Sharjah early in the 10-day fair, where she participated in a short panel with three other women writers from Saudi Arabia, the UK, and India. Afterwards, Soueif sat on a curb outside the Sharjah Expo Center and gave interviews to a few delighted journalists. She flew back to Cairo later that night.
The revolutionary memoir "Cairo: My City" is scheduled for release by Bloomsbury UK in January 2012. The book, which knits together Soueif's memories of Cairo with the start of the Egyptian revolution, was written quickly. But it is nonetheless in Soueif's thoughtful, musical style. The translation into Arabic is still being finalized.
In the excerpts Soueif read on Thursday from "Cairo: My City," the Egyptian people were not passively resisting oppression, as in many English-language accounts. These were fighters. They struggled "with their bare hands, improvised weapons, and the anger of many years."
Soueif was just one of a number of illustrious Egyptian writers scheduled for appearances at the fair, which sometimes seemed overwhelmed by high-quality writers, cramming them into every nook and cranny. Great Egyptian authors Gamal al-Ghitani and Ibrahim Aslan, as well as younger stars like Miral al-Tahawy and Khaled al-Berry, were scheduled to speak. Egypt's former culture minister, Emad Abu Ghazi, also gave a presentation on the fair's opening night. Abu Ghazi resigned on Sunday from his post, over the armed forces' use of violence against protesters in Tahrir Square.
Although the Sharjah fair was celebrating its 30th anniversary, it was until recently a relatively small blip in the Arabic literary scene. According to Director Ahmed al-Amri, in 2007 there were only nine cultural events at the Sharjah fair.
By the time Sharjah's next-door neighbor, Dubai, launched its book fair in 2009, Sharjah had ramped up its cultural and professional events to 150. This year, the fair was set to host more than 300 guests, a new "Translation Rights Centre," and a two-day professional program.
At the professional program, which preceded the fair, publishers and agents flew in from around the world to hear about Arabic literature available for translation. Each conference participant received an "orange book" detailing new Arabic literature ripe for translation. And all were invited to apply for new translation grants; US$300,000 was available for supporting translation from any language into any other.
The Sharjah fair also had a particular focus on children's books. A new hall was constructed this year just for children's publishers and book events. This was where the 10 books long-listed for the Etisalat Prize for Arabic Children's Literature were showcased.
For the second year in a row, an Egyptian author took the Sharjah fair's biggest prize. This year, the million-dirham award was won by Amani al-Ashmawi and the Nahdet Masr publishing house, for their "Fly Away." Ashmawi and Nahdet Masr will split the prize, which is in its third year.