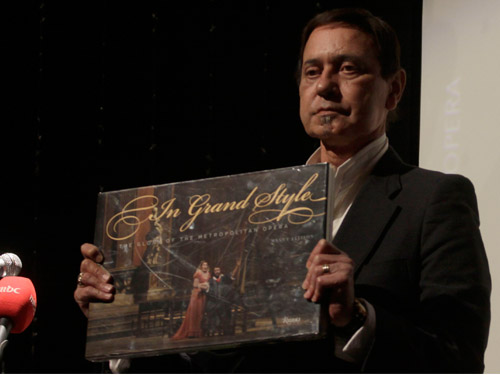 Former Cairo Opera House director Abdel Moneim Kamel passed away on Monday, at the age of 64.
Kamel has been active on the local and international cultural scenes for over 50 years. He left his post as director of the Cairo Opera House on Thursday after reaching the legal retirement age.
After overseeing a rehearsal of the "Swan Lake" ballet at the Sayed Darwish Theater in Alexandria, Kamel suffered a sudden heart attack and passed away. His successor Ines Abdel Daim and Culture Minister Mohamed Saber Arab have declared a state of mourning at all the Opera House theaters in Cairo, Alexandria and Damanhour in respect of Kamel's memory.
Kamel is one of the pioneers of ballet in Egypt. He performed and choreographed hundreds of ballet and opera performances throughout his career. He was the lead solo performer in Egypt for 24 years from 1967 until 1991, performing in works like "Swan Lake," "The Nutcracker," "Don Quixote" and "Scheherazade."
He designed and re-directed 31 mega performances (19 ballets and 12 operas). Kamel designed "Steadfastness," the first Egyptian ballet which was composed by Mukhtar Ashrafi in 1972, as well as "The Nile," composed by Omar Khayrat.
Kamel was also the mastermind behind the weekly TV program "The Art of Ballet" which ran on state TV and worked on mediating the classical art to a broader public from 1975 until 1979 and again from 1999 to 2004.
Kamel was born on 21 February 1949 in Cairo and earned numerous academic degrees. He completed a bachelor's degree in ballet from the Higher Institute of Ballet in Cairo as well as a degree in management and business administration from Cairo University in 1969. Then he went on to receive doctoral degrees in the arts from Moscow in 1979 and a certificate in Practical Ballet Studies from Teatro alla Scala in Milan in 1980.
He taught as the Academy of Arts classical dance, choreography and ballet history from 1969 until 1993.
His technical and theoretical expertise as well as his fluency in five different languages (Arabic, English, Russian, Italian and French) helped him greatly develop the Cairo Ballet Company and the operations of the Cairo Opera House, which he headed for seven years since 2004.