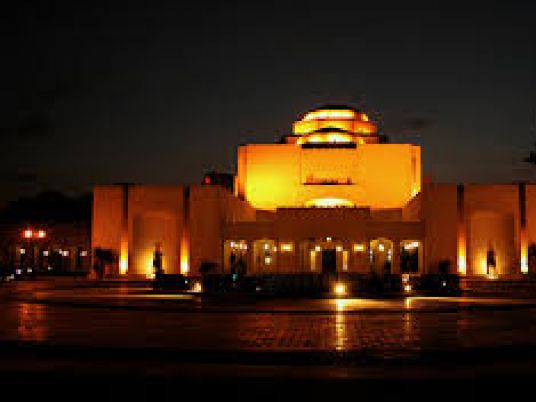 A partnership between Egypt's Ministry of Culture, headed by Enas Abdel Dayem, and the Cairo Opera House, headed by Magdy Saber, will present a series of star-studded concerts throughout July, on a new stage constructed in the Opera Square.
Ninety percent of the stage was constructed over the past few days, and is just awaiting the installation of its lighting system.
According to Al-Masry Al-Youm, concerts will at first be held without an audience, despite the fact that the new outdoor theater can accommodate approximately 1,000 seats, while still adhering to the spacing between seats. The theater is nearly 70 meters wide.

The Opera House has been taking measures to ensure the safe resumption of cultural events, including purchasing seven disinfection corridors, as well as infrared thermometers for all theaters in Cairo, Alexandria and Damanhour.
A schedule for the concert series has already been prepared, and after being approved by Abdel Dayem, it will be sent to the prime minister for his approval.

Bands and singers on the list include Mohamed Mounir, Sherine Abdel Wahab, Mostafa Haggag, Mohamed Hamaki, Medhat Saleh, Ali al-Haggar, Hisham Abbas, Dina al-Wedidi, Massar Egbari, Wust El-Balad, Black Theama, and Marimba player Nessma Abdelaziz.
Eight concerts are planned per month, a number that may increae to include two or three concerts per week.
The concerts will be limited to the Cairo Opera House and so far there is no plan to hold concerts elsewhere.
The Opera House management has also offered the new theater for rent to bands and singers wanting to record concerts that will later be displayed on their own social media channels.
It has also carried out construction work on the open theater, with the aim of enlarging its area to maintain social distancing between the musicians on the stage.
For his part, Egyptian singer Mohamed Mounir said that the aim of the concerts is to delight the Egyptian people.
He emphasized that art is an effective way to express thoughts and feelings and carry out purposeful messages, in addition to promoting a sense of belonging to homeland and loyalty.
Edited translation from Al-Masry Al-Youm