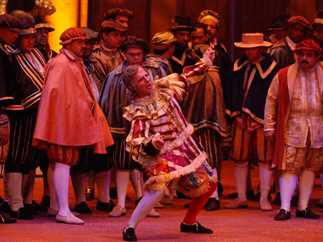 The Cairo Opera House on Thursday is set to host the St. Petersburg Opera Troupe from Russia, the first foreign troupe to visit Egypt since the coronavirus outbreak.
The troupe will present the Opera Rigoletto show by Italian musician Verdi on Thursday at eight pm, and on Al-Masrah al-Kebir on Friday at eight pm.
Saber said that bringing in the St. Petersburg Opera confirms the safety of Egypt's pandemic situation.
Rigoletto Opera was written by Francesco Maria Piave, inspired by the historical play Le roi s'amuse by famous French writer and poet Victor Hugo, Saber sana.
Presented by director Yuri Alexandrov in three chapters, the opera revolves around  Rigoletto, a clown in the reckless duke's court. The duke Manto used to seduce the wives and daughters of his entourage, and while Rigoletto is performing, he reveals the relationship of Duke Manto and Count Ciprano's wife.
Furious, Manto takes revenge on Rigoletto by kidnapping Rigoletto's daughter Gilda, who is in love with him, so the clown rushes to defend his daughter and hires the butcher Sparavuccilli to kill the Duke.
The killer's sister intervenes to save Manto's life by concluding an agreement with her brother to kill the first person to enter the tavern, and events follow, only to discover that Gilda discovered the conspiracy and went to the tavern undercover.
She dressed as a man to receive the fatal stab for her lover, the Duke of Manto.
The Rigoletto Opera is characterized by its musical creativity, as Verdi succeeded in balancing the Italian style and the style of German musician Richard Wagner, by mingling the breaks between the lyrical paragraphs to smoothly follow, so that the individual, duet and quartet songs alternate with a unique melodic genius.
It was presented for the first time in Venice, Italy, in 1851 and achieved impressive success. It was shown for the first time in Egypt at the Khedivial Opera Theater during the legendary ceremony of the inauguration of the Suez Canal in 1868.
Edited translation from Al-Masry Al-Youm