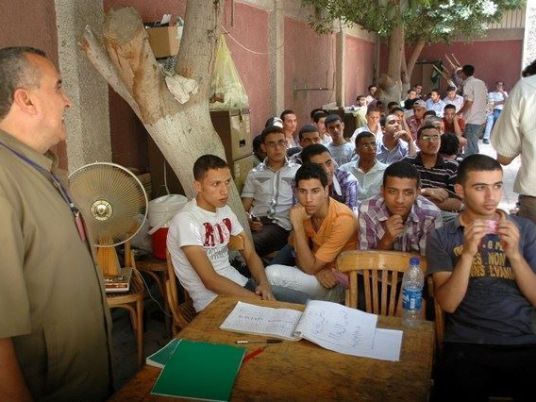 Acting Cairo Governor Ahmed Taymour inspected several schools on Saturday, the first day of preparatory school exams in Cairo, to ensure fairness and good performance in this year's exams.
The tour was scheduled to start with Al-Mohamadiya preparatory school in New Helmiya district, in front of Darb Al-Ahmar police station, before moving to private classes at the 57357 hospital for children with cancer.
Meanwhiel, in Qena, Major General abdel Hamid al-Haggan inspected several preparatory schools in the province.
Haggan said that 50,952 students are taking their exams in 316 classes across the province.
Ezzat Bayoumi, deputy Education Minister for Qena, said that officials supervising exams were instructed to distribute the question papers on time and to prevent cheating and use of cellphones. He also said education authorities were coordinating with the health department to ensure every school had a doctor present.
This year, as task force has been established to monitor any problems with the process of setting and conducting examinations, and deal with any problems that arise. So far, there have been non complaints regarding the questions, according to officials.
Security forces were deployed in strenght to areas known for violent clashes, including fighting between families and tribes.
Naser Morsy, the deputy education minister for Al-Azhar Department in Minya, instructed heads of secondary school examinations on Tuesday to create a suitable and tension-free atmosphere for students.
Edited translation from Al-Masry Al-Youm