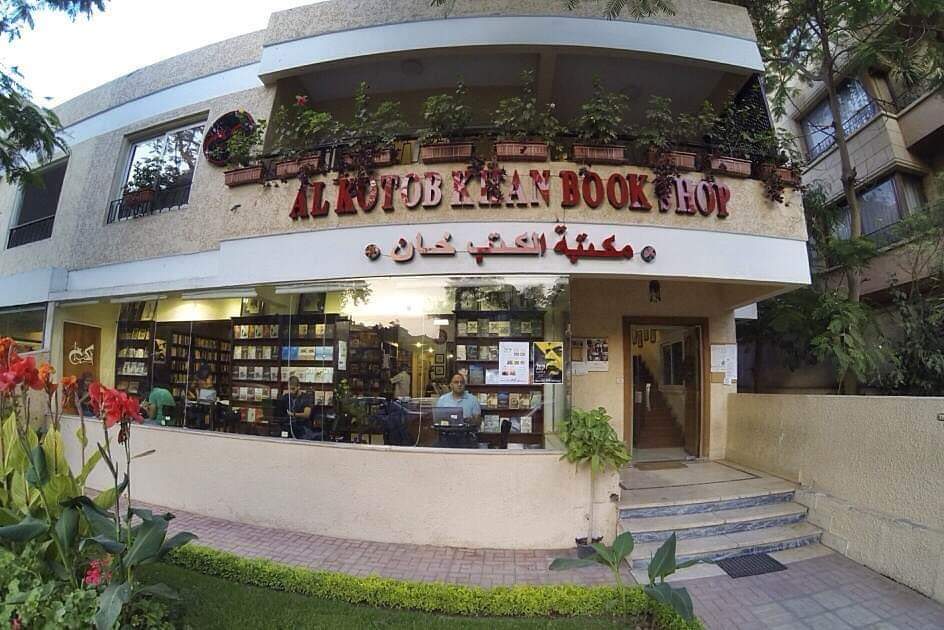 On Saturday, September 28, a number of poets, authors, scholars, literary enthusiasts, and diverse members of the general public will gather in Al Kotob Khan's Degla branch for a poetry reading from 6 pm to 10 pm as part of the global movement 100 Thousand Poets for Change (100tpc). 
Al Kotob Khan's event Facebook page reads: "A general invitation is extended to all poets and poetry lovers, who are welcome to attend or read poetry at this event." The meeting at Al Kotob Khan will be one of more than 500 poetry readings in more than 65 countries for this year's global 100tpc event, reports American poet and movement co-founder Michael Rothenberg on the 100tpc Facebook page.
100 Thousand Poets for Change is an arts and education organization and movement founded by American poets Terri Carrión and Michael Rothenberg. 100tpc promotes poetry and music, and focuses on a global poetry reading event that takes place at local venues in numerous cities across the world on the last Saturday of September each year.
A number of new participants will read at Al Kotob Khan's celebration this year. The bookshop and publishing house has been an annual organizing site for 100tpc since the movement's inception in 2011. In past years, readings for 100tpc have also been hosted at various sites in Alexandria, Arish, Assiut, Cairo, Gharbiya, Mansoura, Port Said, and Sohag. This year, Al Kotob Khan is Egypt's sole representative in the movement.
Some of the many known poets reading in Degla this year are Ibrahim El Sayed Ibrahim Dawood, Ahmed Shafei, Zine El Abidine Fouad, Ashraf Youssef, Girgis Shoukry, Sarah Allam, Abdel Rahim Youssef, Sarah Abdeen, Azza Hussein, Alaa Khaled, Ghada Nabil, Fatima Qandil, Fathi Abdel Samie, Mohamed Kheir, Mahmoud Sharaf, Mahmoud Fahmy, Rasha Omran, Hoda Omran, Yasser El Zayat and Youssef Rakha.
100tpc in Egypt
In 2011, Rothenberg reached out to by email to Karam Youssef, founder and owner of the Arabic publishing house and bookshop Al Kotob Khan in Cairo, in one of many calls for international participation. Poetry readings were nothing new to Al Kotob Khan, but 100tpc brought writers and readers together under a new slogan as part of a global movement for change. Since its first iteration in 2011, Al Kotob Khan's celebration has been attended each year by a number of prominent poets and thinkers from Egypt and abroad. 
"In 2011, the response was fairly good, as there were five readings in Cairo and other governorates. One reading was in Rawabet [(Townhouse)] which is not there anymore. … The one we hold in Kotob Khan is really big, as we have about 20 to 30 poets from different ages and generations that come and read their poems, some facing the audience for the first time," Youssef told Egypt Independent.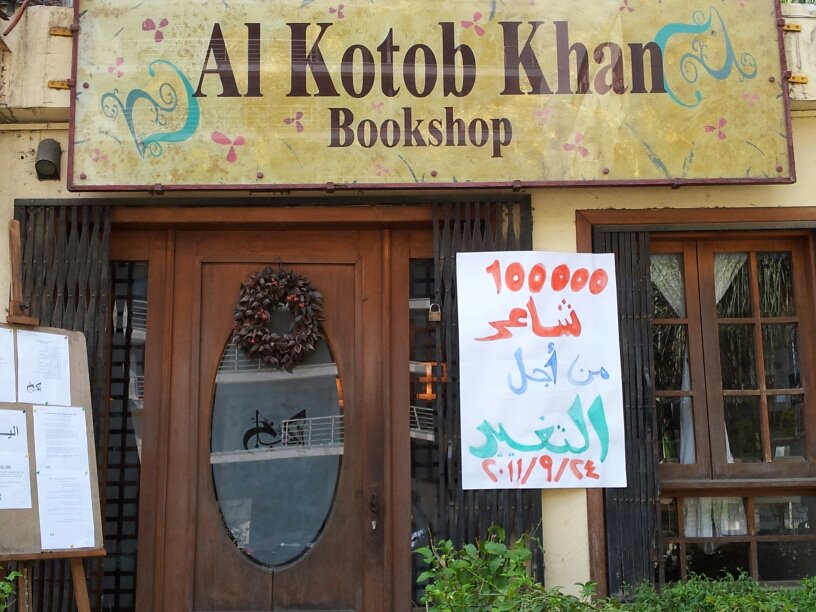 A poster on the storefront announcing the first 100tpc reading at Al Kotob Khan. Credit: Karam Youssef's Facebook page.
A growing movement
Michael Rothenberg started 100tpc in 2011 as a response to a series of national and global crises. In a 2013 interview with poet Lisa Vihos, Rothenberg cites the giant Deepwater Horizon oil spill in the Gulf of Mexico, the 2011 Wisconsin protests, the Fukushima nuclear disaster, and the Arab Spring as catalysts for the movement's launch. 
Rothenberg and Carrión set up a website and a Facebook page for the organization and researched potential hosts of demonstration-celebrations around the globe, inviting them to sign up. By June, individuals in 300 cities across 60 countries had agreed to host gatherings. Stanford University recognized 100tpc as a historical event and agreed to archive and preserve all web content from readings and congregations across the world as part of a digital archiving project. 
100tpc names peace and sustainability among its objectives. The 100tpc official website encourages organizers to consider "wars, violations of human rights, ecocide, racism, genocide, gender inequality, homelessness, lack of affordable medical care, police brutality, religious persecution, poverty, censorship, animal cruelty" as starting points for change. Because of 100tpc's grassroots nature, these global issues are addressed through local lenses.
Rothenberg sees the global movement for climate justice as one of greatest shifts in international activism over the past decade. "The world has changed a great deal in the past nine years since 100 Thousand Poets for Change was created in 2011," Rothenberg said in an interview with Egypt Independent. 
"We have seen a world that is more hungry for communication and shared arts. A world more fully awakened to issues that concern us globally, such as climate change. The survival of the planet, as I see it, is not a political or national issue. It is an issue that centers on humanity. We are looking at the survival of all living things," he explained. 
In line with its commitment to the arts, 100tpc also calls for change within art communities themselves. Rothenberg has said in the past that the first level of change envisioned by the organization is that poets from around the world will show solidarity with one another, breaking out of their locales and biases to strengthen a worldwide community of poetic voices. 
In 2015, Rothenberg and Carrión held the first 100 Thousand Poets for Change World Conference in Salerno, Italy, witnessing the participation of poets from every continent and 30 countries, speaking 20 languages. Through a week-long series of roundtables, meetings, installations, and poetry readings, participants tackled topics such as art, activism, poetry and community from diverse perspectives.
100tpc has seen robust participation from the MENA region every year since 2011. In addition to Egypt, events for this year's September run of 100tpc will be held in Morocco, Tunisia, and Palestine. In past years, September 100tpc readings have been hosted in Algeria, Egypt, Iran, Kuwait, Lebanon, Libya, Morocco, Qatar, Sudan, Tunisia, Turkey, UAE, and Yemen. 
Challenges to globalism
Over the past nine years, 100tpc has attested marvelously to the strong potential for artistic coaction and consciousness-building achieved through online connections. But amid the growth of the movement's networks, restrictions on movement, expression and exchange have arisen as some of the biggest barriers to collaboration and congregation among artists and thinkers from around the globe. Rothenberg has in the past cited travel restrictions and financial burdens as some of the greatest observable sources of "cross-cultural stagnation" in the world today.
"It is very frustrating to meet so many talented and generous poets and artists, so many beautiful souls, lovers of the arts from all around the world, and not be able to collaborate with them freely," Rothenberg told Egypt Independent. "I believe the future of the arts depends on a free exchange of creative ideas between diverse communities across all borders. New ideas, new cultural perspectives will keep the arts alive and make them new, inspiring us towards a sustainable future.
"A prosperous and healthy manifestation of art and creativity can only be had by an open and uncensored exchange. Only in this way will the magic and magnificence of the arts continue to nourish civilization. The arts must flourish for civilization to flourish.
"I have met with many poets and artists in my travels for 100 Thousand Poets for Change, and I regret that politics have negatively impacted travel and the exchange of ideas. … Centralized authority, politicians, armies, and corporate industry each believe that the free exchange of ideas is a threat. This is what we are up against as an international arts community."
In such a world, 100tpc offers a small bit of proof that people in all places still have the will to rise up, unite and work for a better future.
Looking forward
Rothenberg has maintained consistently strong ties with Egyptian organizers over the past eight years, and plans to continue to do so. "I am always inspired by their poetry, their artwork, the posters they create to celebrate their participation in 100 Thousand Poets for Change (I think specifically of the beautiful posters from Al Kotob Khan), their commitment to a global community based on the arts. I hope someday soon to visit Egypt and deepen the relationships we have built over the past nearly ten years. I am sure it will be a visit that will enhance a lifelong association," the veteran poet told Egypt Independent.
Youssef told Egypt Independent that she hopes the reading will continue to grow."I dream one day to organize a big reading, inviting poets from around the world, but this is a huge dream," she said. "Until then, I am hoping we continue to organize the 100 topic each year and to attract more and more poets to participate and read and share their creativity. It seems to be the major poetry reading in Cairo, as it attracts a lot of attention from poets and there are poets who care to participate each year."
Individuals who would like to be added to Al Kotob Khan's 2019 list of readers should message the bookshop's Facebook page. Those who cannot make it are still invited to participate by reading poetry wherever they are.
Main photo credit: Al Kotob Khan's Twitter page.