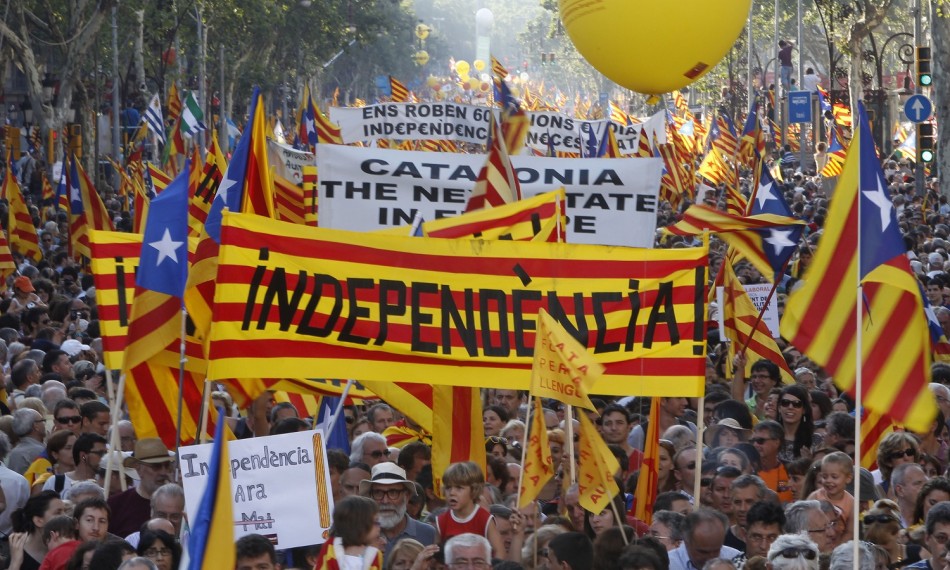 Catalan lawmakers are voting on a bill that will allow regional authorities to officially call an Oct. 1 referendum on a split from Spain, making concrete a years-long defiance of central authorities, who see the vote as illegal.
The so-called "referendum bill" was included at the last minute in the agenda of Wednesday's plenary meeting of the regional parliament, and is likely to be passed by a pro-independence majority later in the day, paving the way to formalize plans for the ballot.
The pro-independence coalition ruling Catalonia, where a strong Catalan identity is built around its own language and traditions, says the bill will legimitize a binding vote on breaking away from Spain based on the right to self-determination.
The Spanish government, however, considers that the referendum violates the country's constitution because only the central authorities can make such call. Prime Minister Mariano Rajoy has vowed to use all legal measures at hand to ensure it doesn't take place.
Rajoy is trying to strike a balance between offsetting the secessionist defiance and staying away from the most dramatic measures — such as suspending Catalonia's autonomous powers or declaring a state of emergency that would bring the army into the mix — that would further inflame anti-Spanish sentiment.
The vote is also not recognized by most of the political opposition at the national level. The leaders of the Socialists and the business-friendly Ciudadanos party declared support for the conservative government in fighting the vote.
Home to 7.5 million, the prosperous Catalonia region centered on Barcelona generates a fifth of Spain's gross domestic product and enjoys ample self-government, running its own police and with considerable powers in health and education. But key areas such as taxes, foreign affairs and most infrastructure are in the hands of the Spanish government.
The pro-independence block has argued that full control would benefit Catalonia, an idea that grew in support in times of high unemployment and harsh austerity measures as a result of Spain's 2008-2013 financial crisis. The return to solid growth has weakened public backing for independence, although polls show that almost eight out of 10 Catalans want to have the right to vote.
But a referendum in defiance of Spain's rule of law, without the blessing of central authorities, has inflamed controversy. If the vote takes place and there is a victory for the "yes" side, Catalan leaders have pledged to proclaim a new republic immediately after, regardless of turnout.