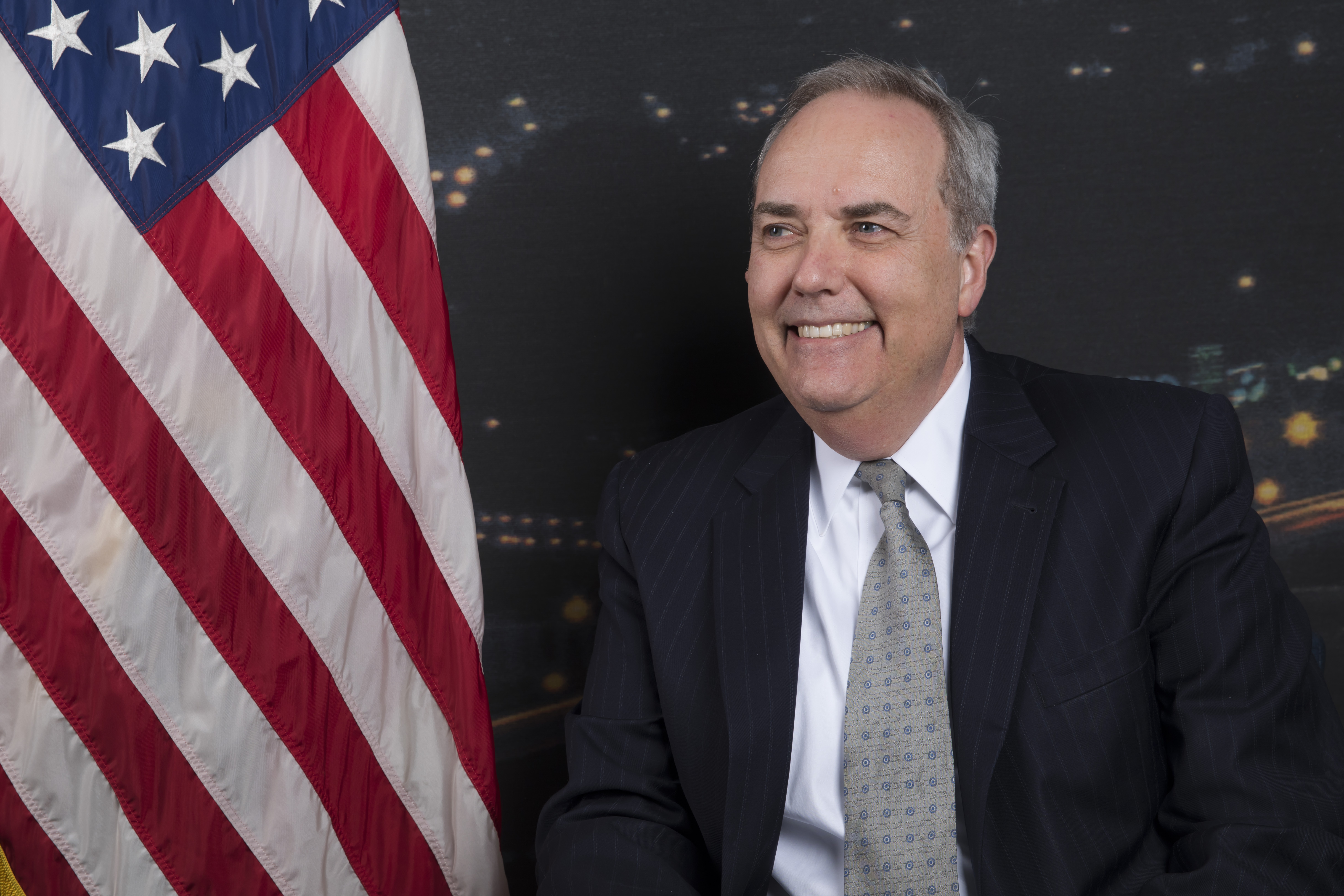 For the first time since taking office, Thomas H. Goldberger, Chargé d'Affaires at the US Embassy in Cairo spoke with Al-Masry Al-Youm in a lengthy interview about the status of US-Egyptian relations under the administration of US President Donald Trump.
Goldberger discussed the strategic partnership between Cairo and Washington, and highlighted aspects of cooperation between the two countries at the political, security and economic levels.
He pointed out the American position on the Egyptian law on civil society organizations and the future of US aid to Egypt.
Goldberger further stressed the close security cooperation between the two countries, while highlighting that the US supports Egypt in its war against terrorism.
He also mentioned the upcoming visit of US Vice President Mike Pence to Egypt by the end of next month.
In light of the warm relations between President Abdel Fattah al-Sisi and President Donald Trump, has the convergence between the two leaders been reflected on the level of government cooperation?
Yes, absolutely. Since President Trump took office, and certainly due in part to the close personal relationship between the two leaders, the historic cooperation between the United States and Egypt has broken new ground in many areas. This cooperation benefits Egyptians and Americans alike and builds on the historic ties between Egypt and the American people that go back to the founding of our country.
What are the most prominent files between the two countries that have been agreed upon during the current administration?
I have been most impressed by the increasing closeness of our security cooperation. The resumption of Operation Bright Star this past September was a very important public demonstration of how Americans and Egyptians are working side by side every day to fight a common terrorist enemy.
We also see great economic opportunities for American companies thanks to the very important economic growth policies adopted by Egypt's leadership. American companies are the most technologically advanced in the world and have a very long history of working in Egypt. They have a lot to contribute to growth and job creation in Egypt. I am seeing more and more of them coming to Egypt every month.
The United States and Egypt are also cooperating closely to address the conflicts in the region.  Senior US officials are regularly in Egypt to consult with Egyptian counterparts on the situations in Libya, Syria, Iraq, and elsewhere. A successful, stable, secure, and prosperous Egypt is crucial for the entire region.
Egypt is going through a difficult period economically, politically and security-wise, what is the support the US administration is offering to Egypt during this period?
I believe that the United States is the largest and longest-standing supporter of Egypt. Our military and economic assistance has totaled nearly $80 billion since 1978, and that relationship continues to be very strong. I have already mentioned our close security cooperation. We recently signed eight new agreements with the Government of Egypt that provide a new framework for US economic development assistance that focuses on economic growth and job creation, education, and health care. You can find out more about USAID's many programs in Egypt on https://www.usaid.gov/egypt.
The United States is also supporting Egypt's economy through our role in multilateral financial organizations. We are the largest financial supporter of organizations like the International Monetary Fund, the World Bank, and the European Bank for Reconstruction and Development that have very large programs in Egypt. When those institutions support Egypt, you can be sure that the US is behind them.
What is the role of the US government in supporting the Egyptian economy and attracting foreign investment?
I have mentioned the economic support that comes from our government and taxpayers. I cannot fail to mention the major contribution of the American private sector to Egypt's economy. The biggest American companies like General Motors, General Electric, IBM, Proctor and Gamble, Mars, and many many others have been investing and working in Egypt for years, employing tens of thousands of Egyptians and investing billions of dollars in Egypt.That investment is continuing to flow to Egypt and is increasing as companies look at opportunities in many sectors, such as oil and gas, infrastructure, and health care. I was very pleased that the innovative US ride-sharing company Uber recently chose Cairo as the location for a new regional customer support center that will employ hundreds of Egyptians. This was a vote of confidence in Egypt.
We have numerous understandings between our governments that support and encourage private investment, as well as government agencies like the Overseas Private Investment Corporation (OPIC) and the Export-Import Bank of the United States that support investment and business in Egypt. I also understand that US investors are active in Egypt's financial markets, which have become increasingly attractive to portfolio investors thanks to the reforms made over the past year. This provides new capital for Egypt's very capable and expanding private sector.
Despite the progress, the Egyptian economy has witnessed, from your point of view, what are the main obstacles to foreign investments?
In the past, American business people have said that doing business in Egypt is complicated by a lack of regulatory clarity. I know that the Government of Egypt is very focused on this and that laws like the new Investment Law are streamlining procedures for foreign and domestic investors alike.
Is the Egyptian government responsive to the demands of American businesspeople?
Yes, the Government of Egypt has been outstandingly welcoming and responsive to American companies. The door is always open in Egyptian ministries for American companies. An American organization called the Business Council for International Understanding (BCIU) recently organized a meeting in Cairo between American companies and Egyptian policymakers at which they strategized together on how to make Egypt's economy even more competitive for companies considering investments. I was very pleased that several senior Egyptian officials, including the Minister of Investment and International Cooperation, participated in this meeting.
The US Embassy supports many educational initiatives in Egypt, we would like to learn more about them?And what are the main challenges to these initiatives?
We work closely to support the Ministry of Education in aligning Egypt's educational system with the needs of the modern economy. Our contributions include technical expertise and programs that improve the quality of teachers and support Egyptian government efforts to implement education programs to develop critical thinking and practical skills of primary and secondary school students. One of the most promising areas for cooperation is in the development of Science, Technology, Engineering and Mathematics (STEM) Schools. We have partnered with the Ministry of Education to establish STEM high schools in Cairo, and this model has already been replicated in 7 additional governorates with a plan for expansion nationwide. STEM schools and other similar initiatives hold great promise for the current and future generations of inspired Egyptians.
We also have numerous programs that support student, teacher, and professional exchanges under which we send nearly 500 emerging Egyptian leaders, scholars, teachers to the US every year for short-term and long-term visits. The Fulbright Program, in particular, supports dozens of Egyptians every year who go to US institutions of higher education as both professors and students.  All of these alumni of US exchange programs return to Egypt energized with new ideas and new contributions to make to their communities and Egyptian society in general.
What is the agenda of US Vice President Mike Pence during his visit to Egypt next month?
It will be wonderful to help welcome Vice President Pence to Egypt. The Vice President wants to show his and the Trump Administration's support for Egypt, particularly in fighting terrorism and extremism. He will meet Egyptian leaders and take advantage of the opportunity to meet and visit with Egyptian citizens.
We learned that Pence will focus on the situation of the Copts in Egypt. Does the US see that the recent steps in this matter, including the law that organizes the building of churches, is insufficient?
I will leave it to the Vice President to describe the specific issues that he will discuss with Egypt's leaders while he is here. The Vice President is coming to hear directly from Egyptians, and we do not differentiate between Egyptian citizens based on their religion or any other characteristic. All people have a right to live their lives and to worship in peace and security so long as they do no harm to their neighbors.
President Sisi invited President Trump to visit Egypt several times. Do we expect a visit to Egypt soon?
I certainly hope that President Trump will have the opportunity to experience the wonderful hospitality of Egypt, and I know that the warm personal relationship between our two leaders would only grow stronger with a visit to Egypt.
What is the US administration's advice to Egypt to ensure stability?
As the President has said repeatedly, we support Egypt and we support President Sisi's efforts to bring stability to Egypt's economy and its security situation. We don't give advice, we give support to the priorities that Egypt identifies. We recognize that Egypt is fighting a virulent terrorist enemy and we stand side by side with Egyptians who have lost their loved ones and friends.
Will the US administration stick to the demand for pluralism in the upcoming presidential elections in Egypt?
Our message to Egypt, publicly and privately, is the same message that we give to our many partners around the world – that free and fair elections are an important pillar of a democratic society.
What are the actual steps the US is taking to support Egypt in its war against terrorism?
In the recent Bright Star training exercise, US and Egyptian colleagues worked closely to combat and defeat a simulated terrorist attack. I have mentioned our security assistance programs, which provide equipment, like Apache helicopters and F-16 fighter aircraft, and armored vehicles that Egypt is using every day to fight terrorism. We have also conducted a variety of training courses in explosive ordnance detection and other related training courses. And of course, there are many other avenues of cooperation that we don't speak about publicly for security reasons.
What are the comments of the US administration on the successes and failures of Egypt in its war against terrorism?
We know that the Egyptian security services are taking great risks and paying a high price to keep the Egyptian people safe, and we are providing support and partnership. As President Trump told President Sisi when he called to offer condolences and support after the barbaric attack on the Rawda Mosque, the United States will continue to stand with Egypt in the face of terrorism. I have no doubt that you and we will win this fight against fanatics who offer no vision for the future and who will always fail.
President Trump's vision to fight terrorism in the Middle East is still unclear. Has a specific strategy been formulated for Egypt?
President Trump has a very clear vision of how to fight terrorism. He has laid this out on a number of occasions, perhaps most eloquently at the Arab-Islamic-American Summit last May in Riyadh. He said:
"We are adopting a Principled Realism, rooted in common values and shared interests. Our friends will never question our support, and our enemies will never doubt our determination. Our partnerships will advance security through stability, not through radical disruption. We will make decisions based on real-world outcomes – not inflexible ideology. We will be guided by the lessons of experience, not the confines of rigid thinking. And, wherever possible, we will seek gradual reforms – not sudden intervention."
That is the vision that we bring to our daily work.
Does the US provide logistical and security support to Egypt in its war against terrorism?
As I noted previously, we are close partners with Egypt in all respects.
How does the US support Egypt in the Renaissance Dam file?
We understand how vital the waters of the Nile are to Egypt. We are consulting with Egypt on how we can best provide support.
Did the visit of Speaker of the House of Representatives Dr. Ali Abdel-Al influence the attitudes of politicians in DC? And how?
I was very happy that the Speaker was able to pay a return visit to Washington following his meeting with the Speaker of the House of Representatives, Congressman Paul Ryan, here in Cairo in April 2016. It is always beneficial for our lawmakers to know each other and to hear directly from each other about their interests and concerns. At the Embassy, we are very pleased to host many visits to Egypt by Members of Congress.
Did Egypt adhere to the American demands to lift the suspended aid?
We have raised our concerns and will continue to discuss the details of our assistance programs with Egyptian officials as we work towards deepening our bilateral cooperation in all fields.
Do you think that the US aid to Egypt has a significant impact on the course of relations between the two countries?
Aid is only one part of the big picture of our relations, as I have described. We have a strategic partnership – an economic partnership, a political partnership, and a security partnership. All of this is based on the historic and close ties and relationships between individual Americans and individual Egyptians. We continue to deepen and strengthen all of those ties, including in the area of assistance.
What are the American reservations on the new NGOs Law?
Every country has a right to regulate its internal affairs. We are concerned that the new legislation, which has not yet been implemented through the publication of executive regulations, could make it difficult for civil society organizations to make their full contribution to Egyptian society. We are discussing these issues with Egyptian officials and believe that there is a good understanding of our views.
Would the US be satisfied if Egypt designed a separate resolution to the American NGOs working in the country as was done with Germany? Is this compromise on the table?
We are discussing all options closely with our Egyptian friends and partners.
During your work in Egypt and the Middle East, how did the Arab Spring change the region and Egypt in particular? Why does the United States support the Tunisian model and how could Egypt benefit from it?
Every country is unique. Since coming to Egypt three years ago, I have been impressed by the love that Egyptians have for their country and their fellow citizens, which is very much like the love that Americans have for our country and for each other. We put our countries first, as we should. I am convinced that Egypt is a rich country with much to contribute to its own citizens and to the world. Egypt and Egyptians will find its path to a better, more prosperous, and more secure future on its own, and the United States will support it.