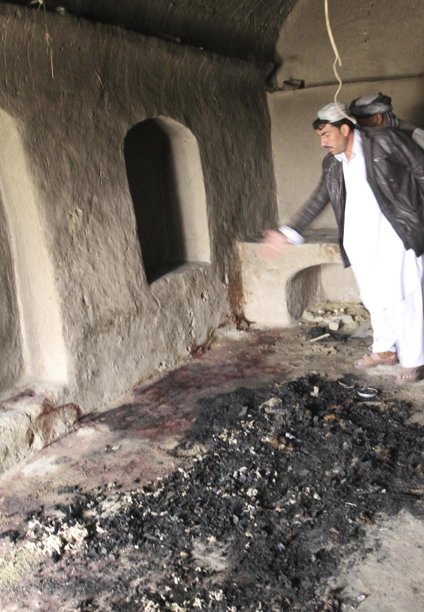 KABUL, Afghanistan — Charges against an American soldier accused of killing 16 Afghan civilians are expected to be filed within a week and if the case goes to court the trial will be held in the United States, a US military legal expert said Sunday.
Army Staff Sgt. Robert Bales is suspected of leaving a US base in Panjwai district of Kandahar province, entering homes and gunning down nine children, four men and three women before dawn on 11 March. He is currently being held at a US military prison in Fort Leavenworth, Kansas.
Neighbors of a Washington state man accused of gunning down 16 Afghan women and children in a nighttime rampage describe him as a family man, playing with his two kids outside his home.
A US official says the suspect in the killing of 16 Afghan civilians has been identified as Army Staff Sgt. Robert Bales. A top military commander says the Army is dealing with mental health and other issues related to multiple deployments.
The legal expert, who spoke on condition of anonymity because of the sensitivity of the case, also said that US officials were discussing the best way to compensate the relatives of the victims and those wounded.
Afghan investigators and members of parliament from the area have said that they believe more than one US soldier — perhaps as many as 20 — conducted the killings in southern Afghanistan. But the legal expert said that while the case was still being investigated, there was no indication that more than one person was involved in the shooting spree.
A US official familiar with the case said that was "completely false."
The US official also spoke on condition of anonymity to discuss details of the investigation.
Villagers from the area also have alleged that women were sexually assaulted during the rampage. The US official said there was no evidence at this time that any of the women were raped. The official said the US military investigators were looking into those allegations along with many others.
Five other people, including three children under the age of 10, were wounded in the incident and evacuated by coalition helicopters to Kandahar Air Field, the official said. It was the second time that one of the children had been treated for a gunshot wound at the air field, the official said.