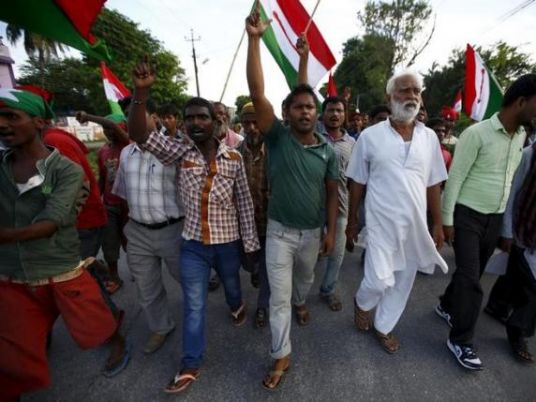 Police in Nepal fired rubber bullets into a crowd of demonstrators killing four people including a four-year-old boy, officials said on Wednesday, the latest in a series of clashes over a plan to set up a federal system.
More than 40 people, most of them protesters, have been killed since a draft of a new constitution was presented in August, with members of minority groups in the southern plains rejecting the plan that would divide their homeland.
Proponents of the long-awaited charter, which could be made into law as early as Sunday, say it will bring much-needed political and economic stability to a nation recovering from years of civil war and, more recently, two devastating earthquakes.
But fierce opposition continues to the plan, which would set up a federal system that would break up a belt of the southern plains, known as the Terai, and merge it into larger provinces with other ethnic groups.
Protesters in the southern district of Rupandehi threw stones and petrol bombs at a convoy of trucks being escorted by police on Tuesday evening, said chief district officer Bishnu Prasad Dhakal.
"The police fired tear gas to try and disperse the crowd, but were unsuccessful. Then they resorted to rubber bullets," said Dhakal. He said no live bullets were used.
A four year old boy was killed in the clash and three protesters later died of their injuries, he said. Five protesters and 20 police were injured.
An official at Universal Medical College, who declined to be identified, confirmed five civilians were undergoing treatment for bullet wounds in the hospital, but declined to say whether the wounds were inflicted by live or rubber bullets.
The United States and India have both called for security forces to exercise restraint in responding to the protests.
This week, lawmakers have met in the capital, Kathmandu, to vote on each clause of the draft constitution, including one that was rejected on Monday that proposed to make Nepal a Hindu state.
If the document is endorsed by a two-thirds majority of the legislature, the president could enact the constitution as early as Sunday.
The government invited protest leaders from the Terai to Kathmandu for talks last week, but the agitating groups have rejected the overtures.