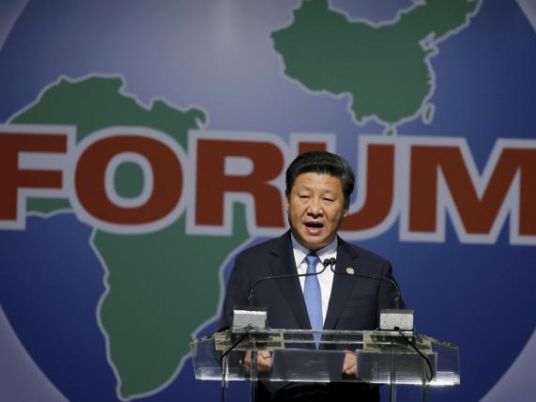 Chinese President Xi Jinping told African leaders on Friday his country would pump US$60 billion into development projects, cancel some debt and boost agriculture under a three-year plan that will extend Beijing's influence in the continent.
Xi said China would not interfere in African countries' internal affairs, a stance that drew applause from leaders such as Zimbabwe's Robert Mugabe who have faced Western criticism of their human rights record.
But China too has irked some Africans in the past for using Chinese firms and labor to build state-funded roads and railways in Africa while buying up commodities and leaving little for local economies, an image Xi is keen to change during a two-day conference in South Africa that ends on Saturday.
"To ensure the successful implementation of these 10 cooperation plans, China has decided to provide a total of $60 billion of funding support," Xi told the summit of the Forum on China-Africa Cooperation.
Despite its own slowing economy, Xi said China would step up investment in factories manufacturing goods for export in Africa, in addition to building roads, ports and railways on a continent long seen as a major commodities source for China.
South African President Jacob Zuma, co-chair along with Xi of the summit, said African countries needed Chinese help to process their abundant natural resources, which he said had made the continent vulnerable to exploitation in the past.
"That way what is buried in the belly of the soil will translate into benefit for the bellies of our citizens."
Commenting on Xi's plans, Standard Bank China analyst Jeremy Stevens said: "I think it's significant in the sense that it confirms China's longstanding agenda on the continent … despite the economic difficulties (in China)."
China is Africa's largest trading partner and the trade volume between them amounted to $220 billion in 2014, according to China state news agency Xinhua.
However, Chinese direct investment in Africa fell some 40 percent in the first half of 2015 to $1.19 billion, China's commerce ministry said last month, due to declining global prices of the commodities the continent produces.
"(The) slide in trade between China and Africa is not due to falling demand but falling resource prices. I don't think we need to panic about fluctuations in trade volumes," China's special representative on African Affairs Zhong Jianhua said.
No meddling in local politics
One Western diplomat struck a skeptical note about Xi's announcement, saying: "It is difficult to tell what the deals involve beyond the headlines. Most of it is loans but it's not clear if these are old or new deals."
Chinese influence is broadly seen by Africans as a healthy counterbalance to the West, though Western governments accuse China of turning a blind eye to conflicts and rights abuses as they pursue trade and aid policies there.
Sticking to that Chinese tradition of non-interference in local politics, Xi said: "China strongly believes Africa belongs to the African people and African problems should be handled by the African people."
Mugabe, whose government signed 10 economic accords with China when Xi visited Harare earlier this week, including a deal on expanding Zimbabwe's largest thermal power plant, praised Beijing's role in Africa.
"Here is a man (Xi) representing a country once called poor. A country which never was our colonizer … He is doing to us what we expected those who colonized us yesterday to do," said Mugabe, who is also chairman of the African Union, to loud applause by the delegates.
In his speech, Xi said China would cancel existing debts with zero interest loans for least developed countries that mature by the end of 2015. He did not elaborate.
African countries were expected to push for loan moratoriums following the weakening of metal and crude prices which has hit their currencies.
Xi announced plans to help African countries improve agriculture through large-scale farming and fight diseases by establishing an African Centre for Disease Control.
The Chinese leader Xi also vowed greater cooperation with African countries in the fight against violent extremism.
An attack last month by Islamist militants in Mali killed 19 people, including three Chinese citizens.