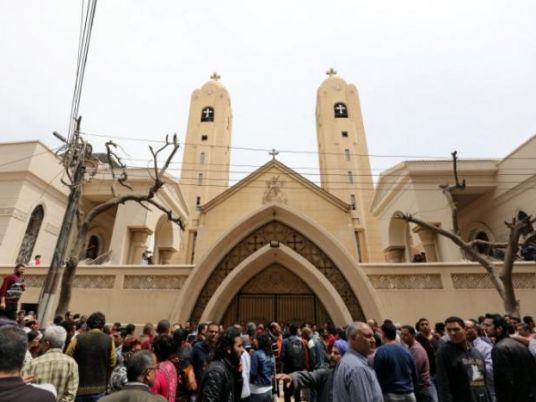 Egyptian Coptic Orthodox churches decided on Wednesday to cancel Easter Sunday celebrations, which mark the resurrection of Jesus Christ, as they mourn the victims of the church bombings which took place on Palm Sunday in the cities of Alexandria and Tanta.
Churches in the southern city of Minya say they will not hold Easter celebrations next Saturday to mourn the 45 Coptic Christians and security personnel who were killed during the Palm Sunday ceremonies, according to AP.
The statement came a few days after the twin attack that hit two churches in Egypt. The first bombing in Tanta, north of Cairo, was inside Mar Guirgis Church during its Palm Sunday service, killing at least 27 people and injuring at least 78, the Ministry of Health said. The second, a few hours later in Alexandria, blasted St. Mark's Cathedral, the historic seat of the Coptic Pope, killing 17 people, including three police officers, and injuring 48, the ministry added.
Islamic State claimed two of its fighters wearing suicide vests carried out the attacks; the group warned of more attacks ahead.
The lS branch in Egypt has recently stepped up its attacks and threats against Christians, who comprise about 10 percent of Egypt's 90 million people and are the biggest Christian minority in the Middle East.