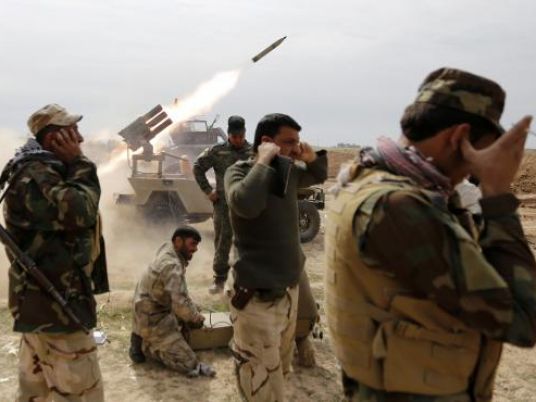 Coalition and Iraqi planes struck a sprawling complex of palaces in the city of Tikrit on Thursday where Islamic State militants have been holding out for more than three weeks, officials said.
US-led coalition planes launched their first air strikes against Islamic State targets in Saddam Hussein's home city on Wednesday, coming off the sidelines to aid Iraqi forces fighting alongside
Iran
-backed Shia militia on the ground.
The decision to give air support to the Tikrit campaign pulls the United States into a messy battle that puts the US-led coalition, however reluctantly, on the same side of a fight as Iranian-backed militia.
"The Iraqi air force with the coalition air force have conducted air strikes targeting the presidential palaces that are the headquarters of IS leaders and groups," Defence Ministry spokesman Brigadier Tahseen Ibrahim Sadiq said at an air base in Baghdad.
"This is the fourth sortie for the Iraqi air force since the early morning."
More than 20,000 troops and allied Shia paramilitary groups have been taking part in the offensive and have suffered heavy casualties on the edge of the city, 160 km north of Baghdad.
Military commanders in the Tikrit operations centre said coalition and Iraqi strikes had targeted parts of the palace complex used by the militants to store arms and ammunition.
"We can see columns of black smoke rising from the site of the presidential palaces as a result of the air strikes," said local official Aref al-Dulaimi by phone near Tikrit.