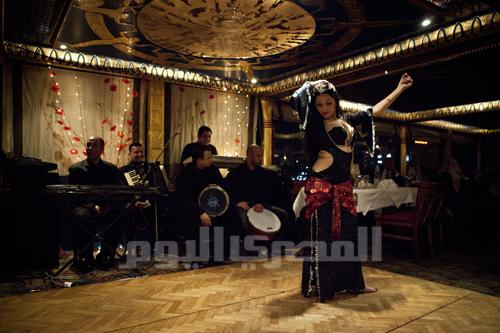 Egypt is a massive living organism — a web of ticking clocks, each set to a slightly different millisecond. With approximately 80 million in the country, 18 million of whom are woven into the streets and buildings of Cairo, the traffic of the city may crawl but many would say it is only by the will of God that it continues to flow at all. People are everywhere — driving, jumping off buses, walking, bicycling… ticking minute by minute through the days and nights of the city. Doctors, valets, belly dancers and beggars… Cairo keeps 18 million cogs in one of the world's busiest wheels. This series takes a magnifying glass to one person, a representative of a job that keeps the city ticking — an eye-level shot that takes you through a day in the life of a cog in the wheel of Cairo.
Nevine El Shabrawy
Magdalena Monti was five years old when she discovered her passion for dancing. Going from classical courses to Tango she finally developed interest in oriental dances. This lead her to Egypt, where she found her lover but also a place to live her dream.
Magda, by her nickname, is living in Heliopolis in a quiet area. Her flat is clean, and a small cat is running around while the traditional Argentinean tea Yerba mate gives an aromatic smell to the place. On the top of the television there is nothing more than some CDs and DVDs by Amir Taleb, one of the most recognized belly dancing teachers in Egypt.
Magda is from the city of Tucuman, north of Argentina. She decided to visit Egypt in 2009 in order to meet her boyfriend, Mohamed, who she met on Facebook. Both of them belong to the world of "music and show," which is how they were connected through the social network. "Mohamed found me on Facebook then we started to chat and here I am now," she says. Mohamed is working at the Nile Pharaohs Cruise Restaurant as a keyboard player. At this time, belly dancing shows occurred daily on the Pharaohs and Magda had the opportunity to replace one of the girls who couldn't come for one evening.
"When I was in Egypt for the first time, Mohamed's manager asked him if he knew someone who could replace the girl, then he suggested that I perform on that day. When I arrived at the place it was like a dream for me to dance on a Nile boat and with an orchestra, this never happened to me in Argentina," she says. After the show, the manager suggested her to stay and work for them as a belly dancer. She made the decision to go back to Argentina for a while in order to arrange her papers and rent her place. After six months, she returned to Cairo and worked as a belly dancer at the Nile Pharaohs Cruise Restaurant.
In the morning, Magda usually cleans her place or cooks. She also keeps a blog up to date in order to share her experiences and feelings as a foreign belly dancer in Egypt. At the beginning, it wasn't easy for her to face the look of the people, as belly dancers can be seen as prostitutes in Egyptian society.
"When I arrived in Egypt I felt very disappointed. I didn't understand why belly dancers have such an image here, and I had a very big shock with the culture. Sometimes I feel very frustrated because I can't show or say what I am, although I'm very proud of what I do. For me it's something so beautiful. But anyway, as a stranger I must fit with the country where I am; the place will never fit to me. I must make sacrifices."
In the back of her living room stands a table with bags and some costumes in it. She works on these costumes before going to work. "I started to create my own costumes. They are for me to wear it but maybe in the future I can launch my own line. I started to do this because I went to many designers and asked them to do make something no one else has, but they never did; I could always find the same thing in another fabric. So if I do something myself, no one else will have it."
Magda started belly dancing when she was 13 years old. She didn't have to wait a long time before performing on stage, which didn't please her father. Coming from a strict Catholic family, her father didn't appreciate that Magda was dancing in front of many people with "light" clothes. However, she kept taking classes and became a teacher herself. She was able to pay for her dance classes and transformed her home into a dance space. "My father was upset and couldn't believe he has to see himself in a big mirror when he was having dinner. Also he had to face a snake in the house as I was dancing with it."
In 2006, Magda decided to move from the north of Argentina to Buenos Aires in order to study dancing with the famous Amir Taleb. But after some days in the capital of Argentina, her father fell ill and passed away suddenly. "My mother died when I was 5 years old. After my father died, I didn't have any family in Argentina anymore. From then, my life was a bit messy, and I started to express my pain in my dance."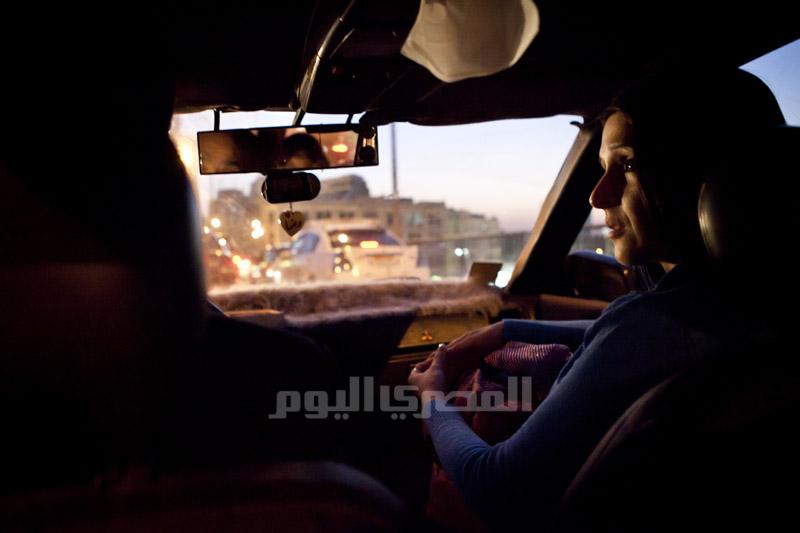 At 6 o'clock, Mohamed or his father comes to pick up Magda to bring her to the boat. Mohamed's father is also a musician who has been travelling around the world. He and Magda get along well, but it's not exactly the same with Mohamed's mother: "She's very religious and it's not easy for her to accept that I'm a belly dancer and that I'm the fiancée of her son. I understand as it's not the same culture, but our relationship is improving as she has to accept that Mohamed loves me."
Upon arriving at the boat, Magda goes directly to her dressing room. It's tiny and many times people knock at the door to get something, as this room is also a coatroom for the staff. Before going on stage, she never knows which kind of people she will meet.
"I feel that sometimes, Egyptian women tend to be jealous. They don't understand that I'm doing my work, and some of them start looking at me to make me feel uncomfortable, like I'm bad. I've never understood why those people are coming to my show. Anyway, not all the women are like this. Sometimes Egyptian women dance with me."
Five minutes before the shows starts, Magda begins to feel nervous. "It's normal, if I don't have this feeling anymore then I can stop dancing," she says. At 8 pm she starts a show of 15 minutes before a small break in order to change her clothes. After the show, she goes back to take pictures with the audience before another performance.
Before the 25 January revolution, Magda performed everyday during the high season. But for the last year she has been dancing only four days a week. As the number of tourists has decreased, the Nile Pharaoh Boat is rarely full those days.
After the show, Magda waits on the second floor of the boat for the the cruise to end. The musicians pack up their instruments while Magda thinks about what was good and what went wrong during the show. At 10 pm, it is time to go home. Since Magda has been in Egypt, she feels like she's living a dream. "In my prayers I say thanks, thanks for where I am now."