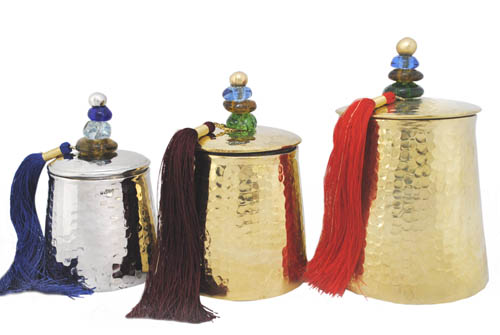 For the last two years, Salma Mostafa al-Feky has been developing her line of home accessories, Salameka, and expanding her export network around the Arab world.
Living abroad for so long has made Feky fond of Oriental artistry, she says.
"My brand is ethnic with a modern touch," the former diplomat says.
Salameka launches two collections a year. One comes out in winter and one comes out in summer.
"Three or four pieces are manufactured from each model," the designer explains.
Salameka uses hammered brass, colored glass and Oriental trims and cloth in most of the pieces, which give them a very Arab feel. From tea sets and cookie jars to hand mirrors and doorstops, all fall under the same concept.
Feky works on her designs and chooses fabrics and trimmings, then a craftsman carries out the production phases.
"All the materials are 100 percent Egyptian," she says.
Other than its meticulous craftsmen, Salameka also works with charity organizations for crafts and artifacts. Salameka designs can be found at Beymen at the Four Seasons Hotel, Monaya Concept Store in Zamalek, and Razzmatazz in Maadi.
"The designs are unique and vigilantly crafted, and therefore slightly on the expensive side," says Feky.
She says she thinks customers are willing to pay if they really like the item.
"I still buy from Azza Fahmy despite the fact that her models are duplicated everywhere," says Feky, who thinks that good products impose themselves on the market.
"People inspire me," the designer says while discussing her new creations.
She says she listens to her clients' needs and takes their advice or recommendations when working on a new product.
Feky says she is not yet ready to open an outlet that would entail mass production. But she is looking to expand abroad, and sees Dubai as an excellent potential market for her merchandise.
Although Salamek has faced difficulties in Kuwait, she is looking forward to display her art in Lebanon, despite tough competition.
"London seems like a welcoming market as well, but I am still looking for contacts there," she explains.
Like many of her counterparts, she says several of her pieces are copied at places such as communal bazaars, where this practice often occurs.
Salameka products are also available on the online boutique Style Treasure, at www.style-treasure.com.
Home accessories by Salameka are available at Monaya Concept Store, Beymen, Razzmatazz or online at Style Treasure.
This piece was originally published in Egypt Independent's weekly print edition.