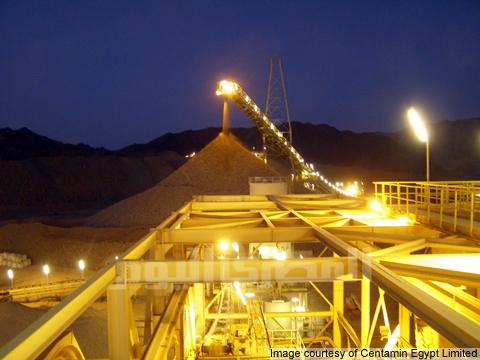 An official from the Sukari Gold Mine said on Thursday that work has stopped due to a diesel shortage.
The same source added that there is no fuel to operate the engines and machines used in extraction.
He added that gold is no longer exported and that gold shipments weighing 1,650 kilograms had been seized at the airport, state-run MENA news agency reported.
The mine requires around 7,000 liters of diesel every day to run the machines and drillers, the source said.
The halt on operations causes daily losses of around US$1million since there are 25 Egyptian and foreign contracting companies operating there with approximately 5,000 workers. The stoppage of extraction work might lead to labor layoffs, the source said.
The extraction company Centimen had announced on Thursday that it halted operations at the mine Thursday due to "government practices."
"It is regrettable and frustrating to announce a halt on exploitation of the Sukari Gold Mine," the statement issued by the Centamin Ltd said. Officials said the stoppage was due to reasons "out of our control."
The Egyptian General Petroleum Corporation (EGPC) asked the company in late November to retroactively pay LE403 million for the fuel supplied from December 2009 to January 2012. The company's statement added that the fuel supplier was told to halt fuel supplies to the mine, located in the Eastern Desert, if the company did not pay the amount.
EGPC, in its November statement, said Centamin would be charged for the diesel it has been supplied since January 2012, based on international diesel prices. Recalculated, the diesel fuel cost increased by 500 percent.
The company has been struggling to keep operations running since September, when the shares of the London-based mining giant tumbled, wiping about 40 percent off its share price, after an Egyptian court ruled void the company's rights to operate the lucrative mine.
The case, filed by Hamdy al-Fakhrany, a former member of the now-dissolved Parliament, argued that Egypt was not receiving its entitled financial returns from the mine. He said the concession granted to Centamin had not been approved by Parliament, which was grounds for the lease to be ruled invalid.
Centamin, which owns a 50 percent stake in Sukari through its subsidiary Pharaoh Gold Mines, said in early October that it was on target to produce 250,000 ounces of gold this year, after having ramped up production in the third quarter. The Egyptian Mineral Resources Authority owns the remaining 50 percent stake in the mine.
Thursday's statement added that Centamin was the only mining company being charged international rates for its diesel use, meaning the decision was unfair.
The company added that it has been paying according to the higher rates, but the Cabinet has not issued an official statement in acknowledgement.
Edited translation from Al-Masry Al-Youm