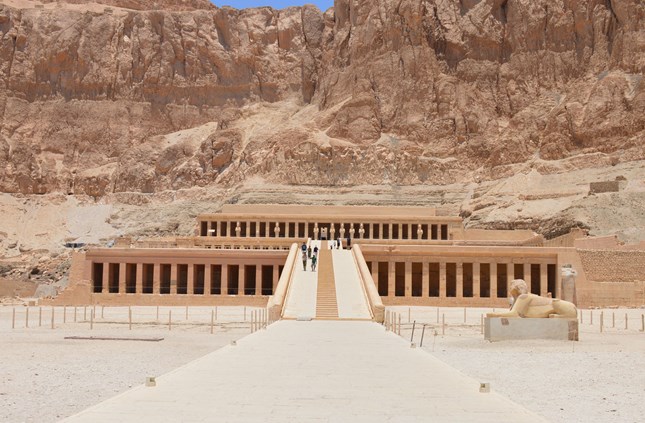 A state of controversy arose following a concert that was held in Deir el-Bahari in Luxor Governorate on Monday. 
Film director Mahmoud Rashad published a video clip of a concert in Luxor.
Rashad said in a post on the Instagram: "This scene annoys me very, very much.The Temple of Deir el-Bahari in Luxor!"
Many celebrities commented rejecting the party, including actress Arwa Gouda, who commented, saying: "It is a shame, I swear." Actress Hend Sabry said: "Not nice."
As for the actress Naglaa Badr, she said: "Ugh."
Mohamed Othman, head of the Cultural Tourism Marketing Committee in Luxor, revealed the details of the concert that was held, Monday, in Deir el-Bahari in Luxor.
It was attended by thousands of people from around the world.
Othman told Al-Masry Al-Youm: "In my capacity as head of the Cultural Tourism Committee in Luxor, I fully undertake coordination tasks, starting with airport reservations,  transport of tourists to and the booking of hotel rooms and have never seen anything like this before". 
At the time of the concert, hotel occupancy rates rose by 100 percent, and hotel room rose by 30 percent.
"The party was a one day event and the location of the ceremony was precisely in the outer hall of Deir el-Bahari at the first entrance to the Temple of Hatshepsut," Othman added.
The party was for a French company working in the field of music, and it was attended by nearly 3,000 people from all over the world.
All the guests were received and the ceremony was coordinated completely without a blemish, he continued.
"Some say that the live broadcast of the ceremony reflected a negative image, which was not true, especially since previous similar experiences were largely positive, as parties were previously held in Luxor for celebrities and major fashion companies.
This was just another contribution to the promotion of tourism and generated dollars into the country," Othman said.
The idea of allowing parties to be held in archaeological areas allowed a large number of international brands and celebrities to visit Egypt and has greatly contributed to the promotion of historical tourism in Egypt on an international level, Othman said.