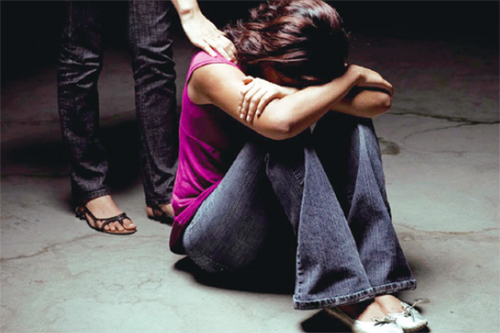 The day a girl is circumcised is often remembered as her "black day," according to the National Council for Childhood and Motherhood.
In recent years, there have been fewer "black days" for girls under 18, but about 95.5 percent of married women in the country have undergone the procedure, according to a 2008 health survey conducted by the Health Ministry and other organizations.
Personal accounts of traumatic experiences with female circumcision are not rare in Egypt.
The World Health Organization defines female genital mutilation, or FGM, as "all procedures involving partial or total removal of the external female genitalia or other injury to the female genital organs for non-medical reasons." The procedure is sometimes called female genital cutting or circumcision.
Dr. Mohsen Khalil, a general surgeon at a private clinic, says he often encounters families in his clinic requesting circumcision for their daughters.
"It's a bad habit," he laments. "They think that circumcision will protect a girl from sexual desire. You have to teach them that [circumcising the clitoris] will not protect her — good morals will."
Targeted campaigns combating the practice began in the mid-1990s. Since then, increased education, legislation and widespread dialogue have helped lower the practice among each new generation of daughters.
The 2008 amendments to the Child Law, as well as the Health Minister Decree 271 and Article 242(bis) of the Penal Code, prohibit FGM. However, concerns are mounting over recent statements by some Muslim Brotherhood politicians and a growing political tolerance of the tradition.
These movements threaten to undo progress made by activists. In response, the Egyptian Society for Gynecologists and Obstetricians issued a collective statement at a press conference on 12 September.
Emphasizing its lack of medical benefits, the society urged medical staff to heed the unlawfulness and illegitimacy of FGM.
From 2005 to 2008, the percentage of young girls getting circumcised in Egypt dropped from 77 to 74 percent, according to the Health Ministry study. While the numbers are still high, support for the practice is steadily declining among younger generations.
Even the number of mothers who wished to circumcise their daughters dropped from 41 to 33 percent. Given that the overall prevalence of women who are circumcised now is more than 95 percent, the downward trend is substantial.
But, despite the statistical decline, the widespread prevalence of FGM among older women reinforces the pressure to continue cutting young girls.
"They believe that [FGM] corrects the behavior of a respectable woman, according to the customs and traditions of a society that is dominated by men," Dr. Ezzeldin Osman said during the press conference.
Sexual desire is considered exclusive to the masculine domain and inappropriate for women.
"According to them, [respectable] women should not show off their sexual needs or their enjoyment," he elaborated.
The clitoris is believed to be the source of this desire. For a woman to be respectful and to complement her husband, many think she must be circumcised, believing that uncircumcised women are more likely to engage in premarital relations or to be adulterous — to desire rather than be desired.
Many think men prefer to marry women who have been circumcised because they are allegedly more suitable for marriage.
A young, high-school-aged woman, who wished to remain anonymous, agrees.
"It is a good thing," she says. "That way, if her husband leaves, she can stay and wait for him. She won't be bothered in his absence."
More than 30 percent of men and women surveyed in the 2008 study supported continuing FGM, despite health risks, because they thought it could prevent adultery.
"This 'proper marriage' accounts for the persistence of the practice because it is essential for economic and social security," according to the study.
If a woman is deemed too salacious for marriage, her future stability is at risk.
Nevine Ebeid, coordinator of political and civil rights for women for the Giza-based New Woman Foundation, says the practice "steals sexual rights."
"The motivation is to control women," Ebeid says.
Her foundation has played an active role in advocating against FGM and recently filed a petition against former parliamentarians, including the Brotherhood's Azza al-Garf, who had supported repealing the law that criminalized the practice.
Ebeid and the New Woman Foundation are one part of a much larger awareness campaign fueled by medical authorities, such as the Egyptian Society of Gynecologists and Obstetricians and activists.
On campaign strategies, Khalil explains that "speaking about the health risks is not going to end female circumcision. Health risks are not a deterrent."
While such campaigns have seen success in the last decade — even labeling some villages "FGM-free" — a focus on the negative health repercussions and risks have led to an unexpected caveat. To avoid these risks but still reap the social benefits of circumcising their daughters, FGM has become overwhelmingly medicalized.
Whereas before, birth attendants or other unlicensed women practiced circumcision, doctors now perform 72 percent of all cases.
Now, in conjunction with grassroots movements, doctors must be informed as well. The United Nations Global Strategy for Women's and Children's Health, part of the UN Millennium Development Goals initiative, details a need to disseminate materials for doctors including protocols, manuals and guidelines.
The press conference was also largely directed at doctors and medical staff, emphasizing their medical responsibility to do no harm and reminding them about the law, in the hopes that doctors will stop agreeing to circumcise girls.
"[FGM] is not taught in any Egyptian medical school," Osman stresses.
Former first lady Suzanne Mubarak was a prominent advocate of women's rights, and worked against the wide prevalence of FGM.
"[Islamist politicians] are enemies of anything related to the old regime," Ebeid explains. "We have to make sure women's rights are seen as a social demand — a struggle, not part of the old regime's will."
Statements by religious authorities including Al-Azhar and the Coptic Orthodox Church have denounced FGM.
But Garf, the former Brotherhood MP, notoriously referred to it as a "beautification process," in an interview with Women's eNews, a New York-based media outlet. In doing so, she ignored the lack of religious or medical support for the procedure and the health risks associated with it.
Ebeid contends that, rather than work with the movement, "politicians would rather appear supportive [of the status quo]. They don't want to bother people and their traditions."
Even the Brotherhood, which has a strong history of charity and social services for the underprivileged, began sponsoring mobile medical clinics through its political arm, the Freedom and Justice Party. Allegations surfaced that the clinics offered both male and female circumcision for LE30, but official representatives denied the claim.
But flyers of the advertisement later surfaced, and officials distanced themselves from the entire event.
Ebeid fears that because of the marked shift in attitudes toward FGM among Islamist politicians, they will lose the fight for eradicating the procedure.
"We have to keep checking the ground under their feet," she says, meaning that they need to keep the politicians honest and in line with current legislation.
Speakers at the press conference hoped to emphasize that the country is in a precarious position. Experts highlighted that quantifiable progress is being made, but politicians are suffering from an identity crisis.
Because of the unstable political state after the revolution and the trend toward more conservative politics, activists worry that the country could drift further and further away from its legal obligations to protect human and women's rights.
This piece was originally published in Egypt Independent's weekly print edition.