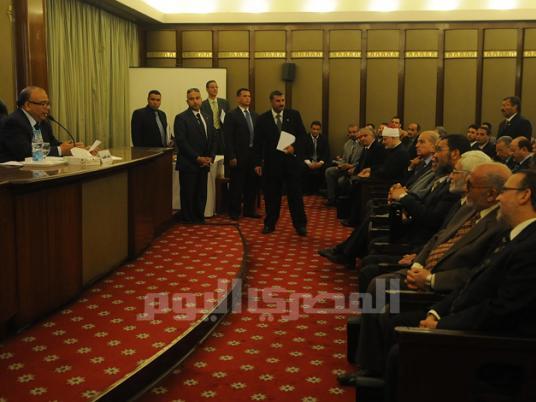 The Constituent Assembly agreed that the president should be given increased powers in the new constitution, including the power to appoint the ministers of defense and foreign affairs.
Assembly members also drafted a constitutional article stipulating that should the president declare a referendum on the dissolution of Parliament and that referendum be rejected by the people, then the president would be obliged to resign.
It was also agreed that the president should only declare war with the approval of the People's Assembly, said assembly member Salah Abdel Maboud, and that the president would not be able to send troops abroad without the approval of both Parliament and national security.
Abdel Maboud added that a proposed article was also drafted that would change the name of the Shura Council to the Senate.
Should the president resign or become unable to continue serving in his position, the vice president would temporarily assume his responsibilities and the People's Assembly would alert the Presidential Elections Commission, said Abdel Maboud. If the vice president were unable to take over the president's role, then the head of Parliament or the Senate would temporarily fill it on the condition that this person would not run in the presidential race. A new president should be elected within 90 days of the previous president's departure.
The Cabinet would be responsible for declaring a state of emergency, Abdel Maboud continued, and such a decision would be reviewed by Parliament within a week of the announcement. Should Parliament be dissolved, the Senate would review the decision. A state of emergency would not exceed sixth months and could not be extended without a national referendum.
Assembly member Mohamed Said added that the president should also choose his prime minister in coordination with Parliament. The new constitution would also give the president the power to issue laws with the consent of the prime minister.
Edited translation from Al-Masry Al-Youm