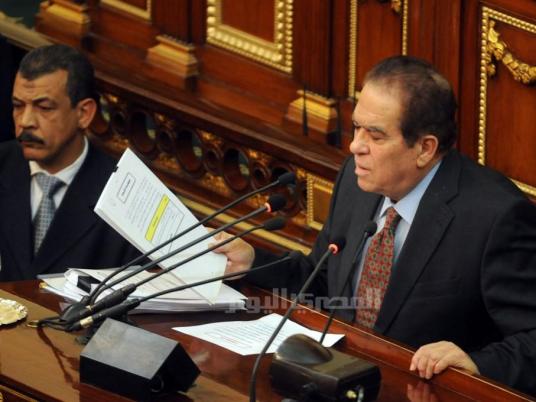 Wahid Abdel Meguid, the spokesperson for the Constituent Assembly, warned against gridlock in drafting Egypt's new constitution and said secular members of the assembly might withdraw because they have been prevented from speaking and proposing different wording for crucial provisions in the final document.
On a phone call with "The People Want," a program on the satellite channel Tahrir, Abdel Meguid said the "withdrawal of civil forces has become widely proposed after conflicts that have taken place, which could lead to an impasse if they continue." He was referring to arbitrary moderation practices in sessions by Hossam al-Gheriany, the head of the assembly.
Abdel Meguid cited one instance during discussions of the chapter concerning the portions defining the basic principles of the state on Monday.
During a meeting while voting on the section, former presidential candidate Amr Moussa rejected the first article, on which the majority had voted. He said that there was a mistake in referring to Asian aspects of Egyptian identity, arguing that it was not like the African, Arab or Islamic dimensions of Egyptian identity.
Gheriany rejected Moussa's comment, saying the article had been voted on and that none of the assembly wanted to discuss it. Moussa responded by saying that this was suppression of alternative points of view. Gheriany told Moussa that he had expressed his opinion and called on him to respect the majority's choice.
Moussa then said, "If we stopped the discussion, then we would not discuss any other article until the constitution is drafted."
Abdel Galil Mostafa, another member, tried to comment, when Gheriany asked him to sit down and refused to let him speak, prompting a retort from Mostafa.
"I don't accept this suppression," he said. "We objected [to] Mubarak during the hardest circumstances."
Essam al-Erian of the Muslim Brotherhood responded, "It's us who objected and were imprisoned. You weren't imprisoned even once," before left the meeting.