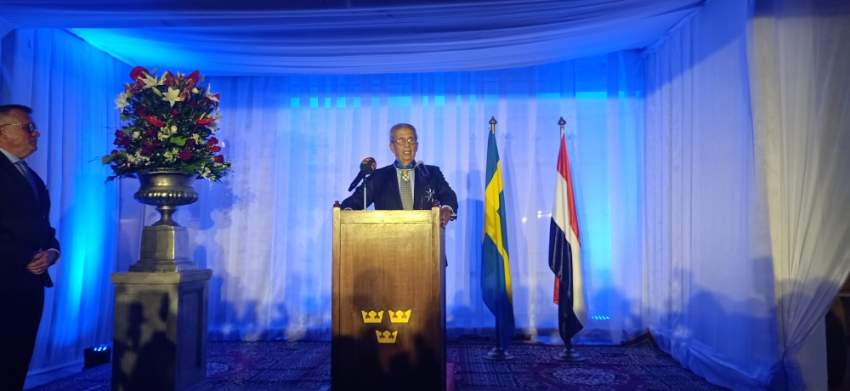 The Swedish Kingdom awarded to ex-Minister of Foreign Affairs and ex-Arab League Secretary-General Amr Moussa the badge for Commander First Class of the Swedish Royal Order of the Polar Star on Monday in recognition of Moussa's efforts to enhance Egyptian-Sweden relations.
Swedish Ambassador to Cairo Jan Thesleff presented Moussa the insignia on behalf of the King of Sweden Carl XVI Gustaf at the ambassador's residence in Cairo.
The Embassy of Sweden in Cairo stated that the Royal Order of the Polar Star is a highly distinguished insignia awarded by the King of Sweden.
The Royal Order of the Polar Star is a Swedish order of chivalry created by King Frederick I in 1748, the embassy added.
The order's motto is "Nescit Occasum," Latin for "It knows no decline," referring to the immovable Polar Star in the sky.
Sweden and Egypt maintain close bilateral relations that go back centuries. The two counties collaborate in various areas such as development and security, gender equality, energy, transport,  and cultural and trade exchange.
Under Sweden's commitment to Agenda 2030 and the Sustainable Development Goals, the northern European nation is working closely with the Egyptian government and the private sector to build new, strong platforms for cooperation. There are more than 40 Swedish companies active in Egypt.