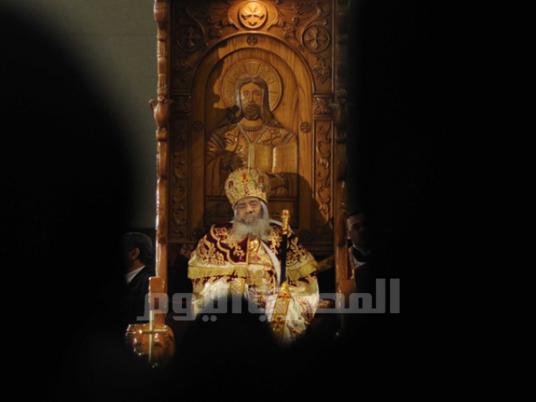 Egyptian state television has said that the Holy Synod of the Coptic Church announced that the funeral prayer for Pope Shenouda III will take place on Tuesday at 11:00 am at Saint Mark's Cathedral in Abbasseya.
A large number of political figures from Egypt and abroad are expected to attend the prayer.
After the prayer, the body will be buried in the Saint Bishoy monastery in Wadi Al-Natroun, 100 kilometers away from Cairo, where the Pope had lived for many years.
The church will receive dignitaries coming to express their condolences on Wednesday at 10:00 am and 6:00 pm at the Coptic Orthodox Cultural Center in Abbasseya.
Field Marshal Mohamed Hussein Tantawi, head of the Supreme Council of the Armed Forces; Sami Anan, vice president of the council; and other council members had visited the cathedral on Sunday to express their condolences.
The Muslim Brotherhood also said Supreme Guide Mohamed Badie, his deputy Mahmoud Ezzat and guidance bureau member Abdel Rahman al-Barr will attend the Pope's funeral.