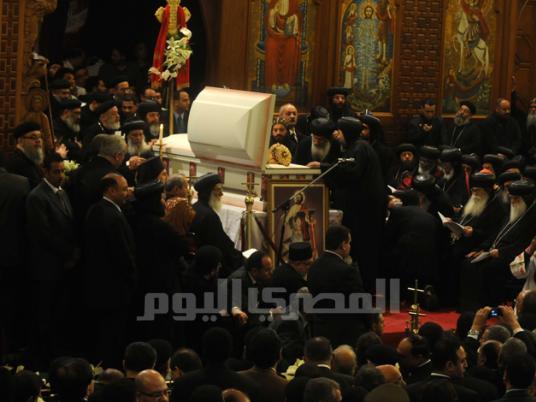 Bishop Pachomius, acting pope of the Coptic Orthodox Church in Egypt, told Al-Masry Al-Youm on Tuesday that the Holy Synod is meeting on Thursday to discuss the bylaws that were devised in 1957 to govern the selection of the pope.
"The bylaws are good but need amendment," he said, pointing to a provision that stipulates the presence of representatives of the Ethiopian Church that used to belong to the Egyptian Coptic Church.
"Another provision says those who have the right to elect the pope must earn an annual salary of LE400," he said, adding that the process for choosing the new pope may take three months or more.
Coptic leaders and intellectuals had called for amending the bylaws to allow greater participation by the Copts in the selection of their pope. The new pope will be chosen based on a set of 1957 church bylaws, in a process that could take months and involve 1,500 people.
Under the church's bylaws issued in 1957, the next pope shall be elected by bishops, former and current Coptic cabinet members and MPs, Coptic notables and Coptic newspaper owners and editors.
Once the vote is completed, a blindfolded child will choose a name from a hat containing the names of the three candidates with the highest number of votes.
Candidates must be at least 40 years old and have spent at least 15 years in monastic life.
Translated from Al-Masry Al-Youm