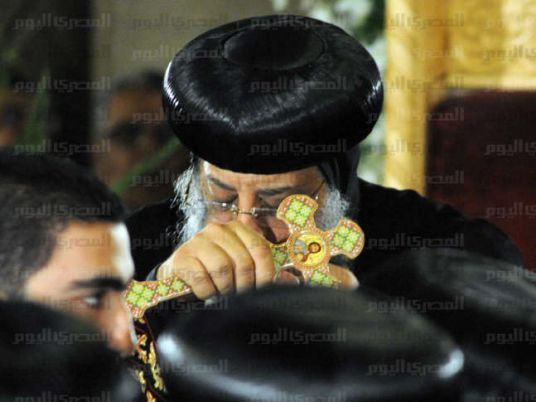 In a phone interview with Al-Asema show on Monday evening, Reverend Halim said, "not only is this a message of peace, but it supports tolerance in the Arab world and is a sign of improved relations between Saudi Arabia and the church."
He added that Al-Azhar's role has been very important in conveying this peace message in cooperation with Saudi Arabia, describing the institution and the Arab country as the " the heart of Islam in the Arab world."
He also added that the meeting between the Saudi heir and Pope Tawadros further ensured the strengthening relations between Egypt and Saudi Arabia, saying, "this is a visit of love and peace."
Moreover, he added that this visit is only the beginning to what he believes will be a long, prosperous relationship, adding that the Saudi prince extended an invitation for representatives of the cathedral to come visit.
The Church also announced some details of the visit, saying the Saudi prince told Pope Tawadros that the Christians hold a high place all the world's hearts not only Egyptians.
During the visit Pope Tawadros commended the prince's new open domestic policies saying, "we have been admirably following your progress on the media. The new changes to Saudi Arabia helps in the growth of the whole region. We appreciate Saudi Arabia hosting millions from all countries including Egypt and providing job opportunities for them. We know our Egyptian Christian children who work in Saudi Arabia receive a lot of love and they always speak highly of the Saudi government."
Prince Bin Salman invited Pope Tawadros to visit Saudi Arabia soon.
"The prince spoke a lot about his love for Christians, and we highlighted that Pope Marcus visited Saudi Arabia three times in the past. So the prince invited Pope Marcus for a visit along with all members of the church," Pope Tawadros told the press.
"We send out regards to all Saudi people," Pope Tawadros continued, "to the king and the envoy that came with the prince."
This is not the first official meeting between the church and Saudi Arabia, Pope Marcus has previously visited Saudi Arabia three times since 2012.
Saudi Arabia has promised a more open system under the new prince, who has began reversing laws that have been in place for decades.
Since becoming the Patriarch, Pope Tawadros II has worked towards improving relations between the church and Saudi Arabia. The Pope previously took an unprecedented visit to the Saudi Embassy in Cairo, where he met with Saudi Ambassador Ahmed El-Qattan.
Following the death of King Abdullah in January 2015, the pope said, "King Abdullah was a man of great wisdom and discerning vision. We live at a time in which we need wise people. His passing is a great loss for the Arab nation and the Kingdom of Saudi Arabia, and the loss of a dear and noble friend of the Egyptian people."
The first meeting between a Saudi monarch and a pope took place in 2007 when King Abdullah met Pope Benedict XVI at the Vatican as part of his European tour. During their talks they discussed how to protect religious and moral values, the Middle East conflict, the political and religious situation in Saudi Arabia, the importance of interfaith and intercultural dialogue, and the contributions that affiliates of all faiths have made to the promotion of mutual understanding between different peoples and societies.