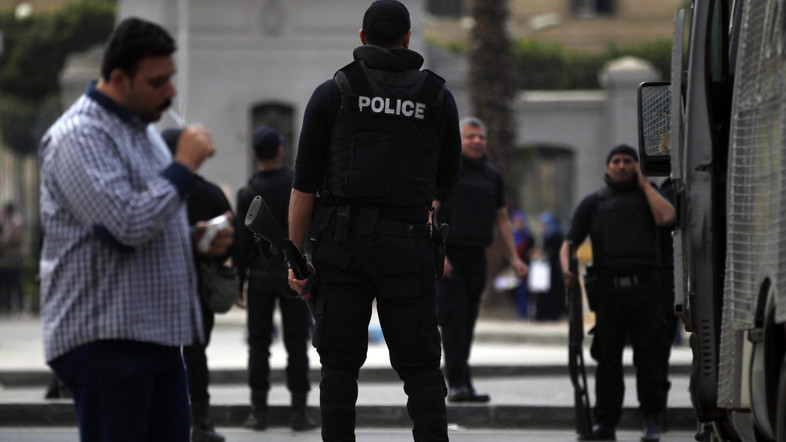 The Interior Ministry presented a video film during the visit of President Abdel Fattah al-Sisi to the ministry's headquarters last week on Wednesday, documenting the efforts of the ministry during the past four years.
In the past four years, the security situation stabilized in Egypt after years of chaos and instability, it said.
Security challenges have been enormous, requiring a comprehensive confrontation on all fronts.
In the field of counter-terrorism, the ministry's efforts have succeeded in directing pre-emptive strikes against terrorist organizations, and averting many terrorist attacks against the country, according to the video. The police destroyed 992 terrorist outposts and arrested 19,108 terrorists with large quantities of weapons, ammunition, and explosive materials, said the video.
The ministry took legal action against several entities and economic institutions supporting terrorist organizations, which led to a decrease in the number terrorist attacks by 85 percent, from 481 in 2014 to 22 incidents in 2017.
In the field of counter-criminality, the ministry carried out large-scale crackdowns, successfully eliminating 205 hotbeds for criminals from 2014 to 2017, and arrested 134,681 criminals, including from 5,157 gangs with a total of 16,525 members.
The ministry has taken legal action against criminals in cases of murder, forced robbery, rape, and kidnapping, in up to 11,308 cases.
Moreover, the ministry responded to the phenomenon of the illegal proliferation of arms, seizing 128,749 different weapons – including 20,550 automatic rifles – and from 2014-2017 it took legal action against 451 plants which manufactured firearms. There has been a 74 percent increase in the number of closed plants and seized weapons in the same period compared to previous years.
The video said that 34,135,033 judicial verdicts were implemented in the last four years, including the issuing of 265,062 prison sentences over criminal charges. Additionally, 1,202 escapees from the death penalty have been arrested, 36,850 people who escaped from a life imprisonment sentence have been re-arrested, and 1,890 prisoners who escaped during the period of security chaos in 2011 have also been re-arrested. The ministry's efforts in this field increased by 143 percent compared to previous years, the video mentioned.
The ministry took action in 615 cases of illegal immigration over the past four years.
In the field of cyber-crime, the ministry has developed the training and skills of its members and modernized its devices. It took action in 6,211 cases involving 6,340 suspects.
The ministry attached special importance to combating public financial crimes and corruption, taking action in 4,924 cases of embezzlement, graft, forgery, bribery, and money laundering.
It took action against 157,208 cases of tax and customs evasion, worth a total amount of LE310,431,595 million.