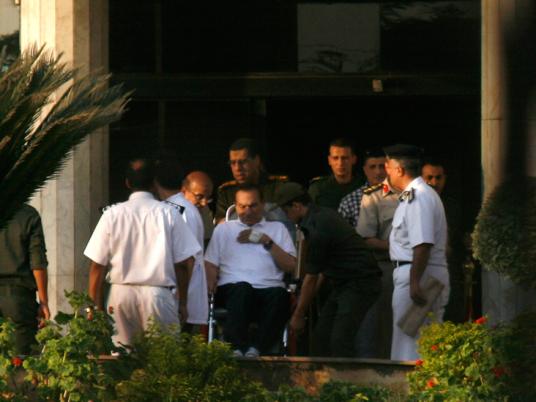 An administrative court on Thursday set 26 March to issue a ruling on a request to release imprisoned former President Hosni Mubarak for health reasons.
Cairo Criminal Court sentenced Mubarak and former Interior Minister Habib al-Adly to life in prison last year for failing to prevent the killing of revolution protesters. However, the Court of Cassation recently accepted appeal requests for the two men.
Mubarak's lawyers had filed a lawsuit against the top prosecutor, interior minister and head of the prisons sector demanding his release based on Article 36 of Law 396/1956, which says a prisoner should be released if the chief physician in charge of prisons certifies he has a life-threatening disease.
In court Thursday, Mohamed Abdel Razek, a member of Mubarak's defense team, suggested postponing the health-related lawsuit until after the appeal trial. He also requested that a medical team be formed to examine the former president and prepare a report.
Mubarak has already undergone several checks ordered by Prosecutor General Talaat Abdallah after the octogenarian fell in a Tora prison bathroom.
A number of Mubarak supporters attended the court session Thursday.
Edited translation from Al-Masry Al-Youm