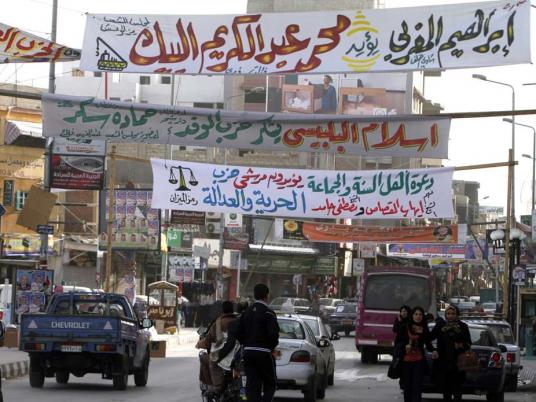 Court rulings have invalidated the results of various elections around Egypt for the third round of elections for the lower house of parliament, delaying the conclusion of the first half of Egypt's first post-Mubarak parliamentary polls.
The election for party list-based seats for the People's Assembly will be re-held in the first electoral district of Sohag Governorate on 16 and 17 January, said head of the High Judicial Elections Commission (HJEC) Abdel Moez Ibrahim Thursday.
This will implement a ruling by an administrative court and endorsed by the Supreme Administrative Court, Ibrahim added.
Other court rulings are also affecting the conclusion of the third round.
The administrative court in Assiut on Thursday evening canceled the results of elections for single-winner seats in Minya Governorate's second constituency. The 53 candidates there will re-compete in both normal and runoff elections, Ibrahim said, without setting a date.
Qalyubiya's administrative court on Thursday evening reiterated its 9 January decision to re-conduct runoff votes for list-based and single-winner seats in Qalyubiya's first constituency. The court issued its decision after some candidates alleged that votes were miscounted.
Runoffs for single-winner seats will also be held in Daqahlia Governorate's first electoral district, after a court ruling canceled its initial results. The HJEC has not yet specified a date for these runoffs.
Administrative courts have also invalidated elections results in South Sinai and Qena's third constituency.
The HJEC decided last week to re-conduct elections in South Sinai, which has only one electoral district, beginning on Monday for both list-based and single-winner seats. In Qena, the third district elections will be re-held on 14 and 15 January for single-winner seats, with runoffs set to take place on 17 and 18 January.
The final stage of People's Assembly elections, pending these delays, concluded on 11 January.
The HJEC is expected to announce the results of the elections within hours. Preliminary reports have shown Islamists winning a large share of votes.