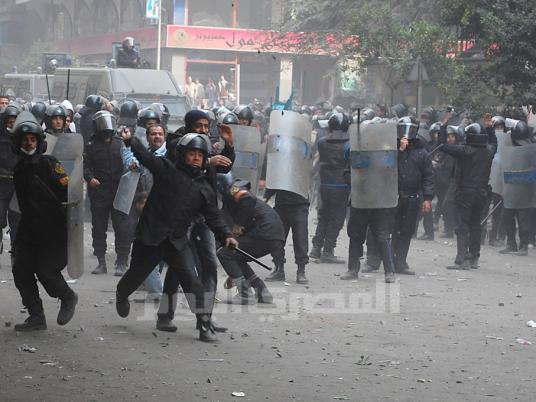 The number of people killed in clashes with Egyptian security forces in Cairo and Suez rose to 15 on Tuesday, the Health Ministry announced.
Two protesters died on Tuesday. One died after falling from the Egyptian Tax Authority building located opposite the Interior Ministry, eyewitnesses told Al-Masry Al-Youm.
The other was killed in street fights with unknown people who said they were residents of the Cairo neighborhood of Abdeen, located meters away from the Interior Ministry.
Residents of Abdeen neighborhood on Monday tried to block protesters from reaching the Interior Ministry.
Clashes erupted briefly between protesters and the residents. Both sides threw rocks and glass at each other, and police didn't intervene apart from firing rounds of tear gas.
The two bodies were transported to the morgue at Qasr al-Aini Hospital.
Assistant Health Minister Hesham Shiha said 22 injured people left the hospital early Tuesday, and 11 remain. He said 73 people suffering from breathing problems were treated on-site.
No additional injuries or deaths were reported in Suez or Alexandria.