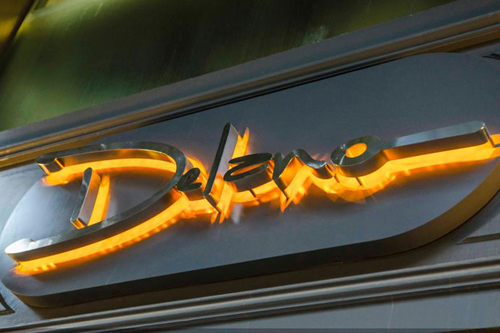 The white walls, the Picasso prints and the faux crystal appliques give Delano an air of trendy class and elegance.
Upon entering the Zamalek restaurant, one automatically picks up on the red couches and the art deco chairs, both comfortable and chic. As a first impression, the restaurant is enticing — but things sour when you pick up the menu.
Short and random, the dishes on the menu ping pong randomly between Italian and Egyptian or Lebanese. Caprese shares a category with hummus; one considers whether to order ravioli or kofta.
Had every choice on the menu been eclectic, one might call it personality, but this simply makes it hard to figure out a restaurant's specialty or cuisine. It feels more like a list of someone's favorite foods.
Delano's bread basket offering is decent, with bread sticks and bread accompanied by two dips — arugula pesto mayonnaise and what could have only been Kiri cheese (gibna nesto).
The first tasted fresh and the bite of the herb complemented the creamy softness of the mayonnaise. However, the Kiri paste was uncreative, out of place and simply very poor.
The waiters, though obliging, seemed a little clueless about the menu, but we made it through our order. Almost 30 minutes later, our LE62 mozzarella and tomato salad appeared, and disappointment descended on the gathering.
The Italian salad tasted good, but the portion was small and extremely pricey. For the appetizer, we chose the prune-and-pistachio lamb kofta, which turned out to be something of a hoax — the kofta was prune-less and pistachio-less, and to our surprise, our waiter had no idea what the dish's ingredients were.
Following our complaint, he removed the dish and offered a replacement.
As a main course, the spaghetti Napolitana was average, and tasted a lot like the Gezira Club pasta. The shrimp ravioli was, again, average; the creamy rose-colored sauce was rich and tasty, but the ravioli dough was thick and undercooked.
The fillet was the only dish that tasted adequate, but the portion was small for its price of LE90.
For dessert, things went from bad to worse.
A wannabe tiramisu swam in Doctor Oetker "creme shanti" — cheap whipped cream from a boxed mix — and the thin, coffee-soaked layer of cake was soggy and bitter. Two useless ladyfinger biscuits decorated the bowl.
In a nutshell, it tasted nothing like tiramisu.
A trip up to the bathroom symbolically offered the same eye-catching decor with a mirror made of little curved circular mirrors, which served no purpose but to make one look fat and deformed.
Needless to say, we left, pockets empty and sorely disappointed.
Delano; Address: 31 Ahmed Heshmat St., Zamalek; Tel.: 012-0000-2088; Hours: 1 pm–1 am daily.