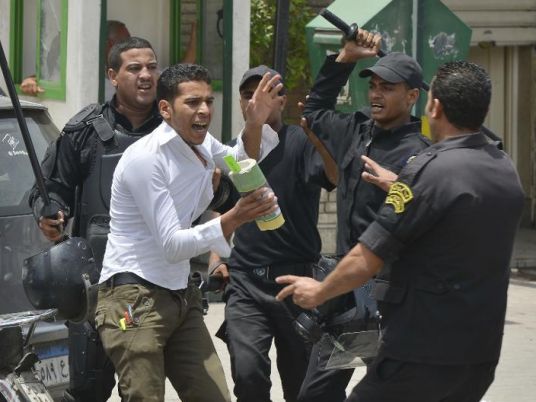 Students staged 209 protests throughout the last month, 185 of which took place at 25 universities, according to a report by the Egypt-based International Development Center's Democracy Index.
The number marks a decline from 315 protests in 2013, the report noted.
Al-Azhar University students topped the list of protesting universities with 50 demonstrations, followed by peers at Cairo University with 21 protests, Helwan University( 17 protests) and Alexandria (15 protests).
The most prominent demand by protesters was the release of detained colleagues and the reinstatement of sacked ones, voiced in 143 protests, 68.8 percent of the total demonstrations. Second came the condemnation of intensified campus security measures( 10 protests) and decrial of the death of protesting colleagues ( 5 protests). Five other protests objected to other administrative issues and student by-laws.
Demands unrelated to the university activity were voiced in 7.2 percent of the protests, according to the report.
October protests left one student killed by a BB shot in the nexk by security forces, while 43 students and 21 government and private security agents were wounded, the report revealed.
Two teaching staff members and nearly 448 students were arrested during the month, the report added, noting that 118 students were discharged and 10 teachers were suspended.
Nearly 96 percent of the student protests were peaceful, adopting protest means such a demonstrations, vigils and traffic blocking, the report said.
It, however, notes that specific actions prompted peaceful protests to turn into 81 incidents of violence. The report explained that security dispersed 19 student demonstrations that were mainly peaceful due to their violations of "legislations and restrictive measures adopted recently by the Egyptian Administration".
Universities have seen fifteen occurrences of violence between students, campus security and Falcon, the private security firm which authorities contracted to secure 12 universities. Most of the encounters between Falcon and students were stimulated by what students believe were intransigent security checks by company agents, says the report.
The index calculated two assaults by Falcon against media reporters.
The report said that Falcon had been, until present, involved in 27 incidents of violence at Egyptian universities, arguing that the fact arouses questions about the feasibility of entrusting campus security to the firm.
As clashes between pro-Muslim Brotherhood students and opponents recorded five instances, the report blamed the authorities for pitting its student backers against its opponents.
The center advised the government to take the initiative of releasing detained students and reinstating expelled ones,a move it said would be sufficient to reduce violence and protests by 50-60 percent.