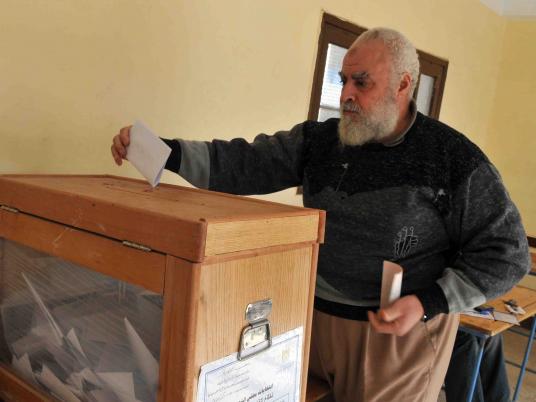 The Democratic Alliance will meet within days to discuss incorporating parties who made electoral gains into the alliance to form a majority in the People's Assembly, sources in the alliance, led by the Muslim Brotherhood's Freedom and Justice Party (FJP), have said.
The Wafd Party, which finished third in the parliamentary elections with 45 seats, and the Jama'a al-Islamiya's Construction and Development Party will join the Democratic Alliance, according to the sources. The two parties were formerly part of the coalition, but withdrew from it before elections. Sources say the alliance is not planning on courting the Salafi Nour Party or the Egyptian Bloc.
They said that two names have been mentioned as potential heads of the new parliament under a Democratic Alliance majority: Saad al-Katatny, the FJP's secretary general, and Wahid Abdel Meguid, general coordinator of the alliance.
The FJP and the Nour Party won the most seats during the third phase of the elections. The FJP won 38 parliamentary seats and will run for 30 of the single-winner seats during the runoffs, while the Nour Party won 27 seats and will run for 29 during the runoffs.
Ahead of the third phase runoff, the Democratic Alliance has won 213 seats, Nour has won 111 seats, Wafd has won 37 seats and the Egyptian Bloc has won at least 12 seats.
FJP Vice Chairman Essam al-Erian said in a press conference that the party plans to form a coalition government that will purge state institutions of corruption. It will also restructure the police apparatus.
Erian emphasized that power will be transferred to a civilian government by the middle of 2012, saying that the ruling Supreme Council of the Armed Forces will hand over power once a president is elected. He also called for patience and support for the current government.
Meanwhile, in Qena and North Sinai, supporters of candidates who lost in the first round of the third phase rejected the election results. Hundreds of people blocked roads and railways in Qena for a second consecutive day, saying the election was rigged in favor of Abdel Raheem al-Ghoul, an independent candidate with alleged ties to the disbanded National Democratic Party.
Translated from Al-Masry Al-Youm