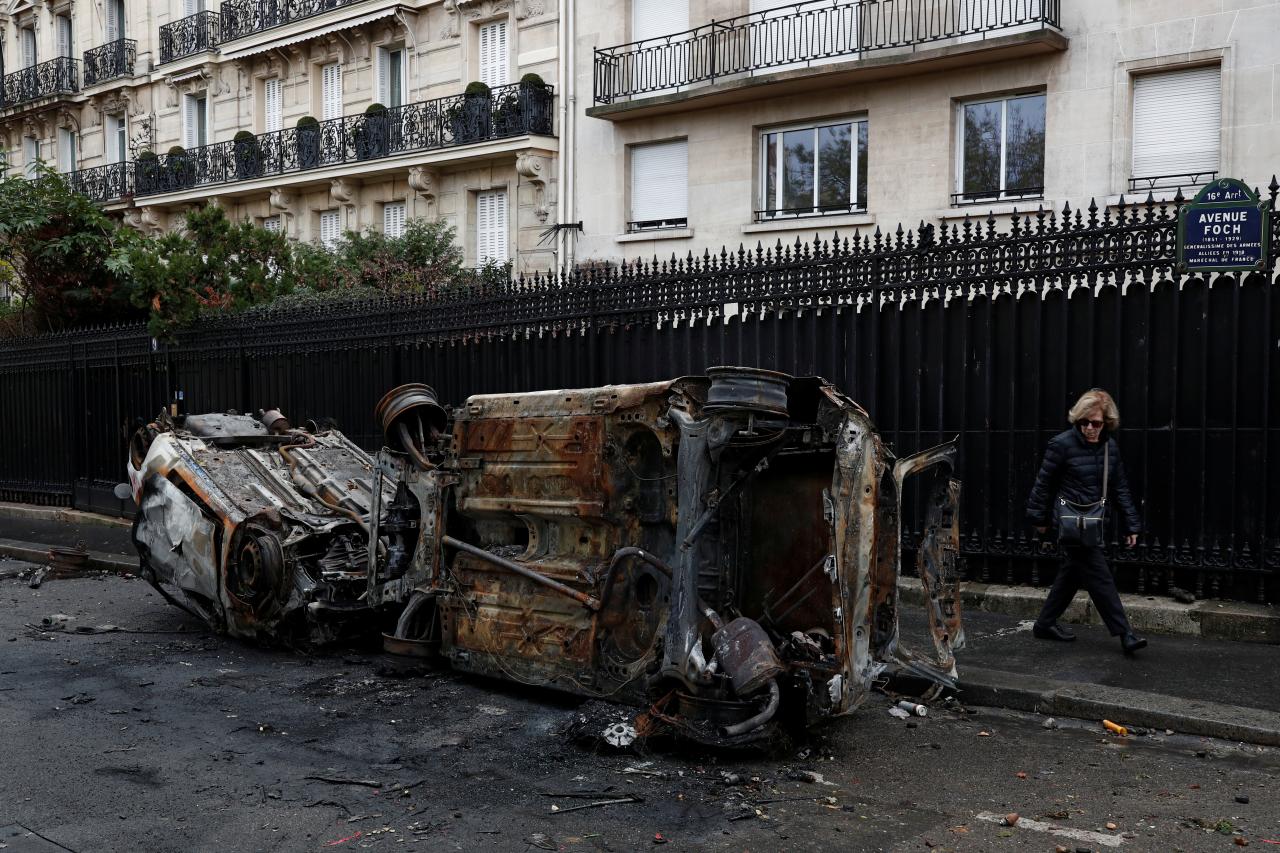 The Giletts Jaunes (Yellow Vests) protests in Paris on Saturday saw violent acts (92 people were injured, including 14 policemen), but it didn't prevent the French government and politicians from seeking dialogue with the protesters, even if these dialogues have yet to yield any tangible progress.
Giletts Jaunes emerged abruptly as a popular protest movement without a leader or a boss, rejecting parties and unions. They took to the streets for the first time on Saturday, November 17 in a protest against the increase in the price of gasoline (14 percent). The number of protesters fell and rose in the following weeks because of the violence, until it reached 75,000 protesters on Saturday.
Although these protests are likely to continue with President Macron's insistence not to back down on his decisions, this didn't prevent a remarkable dialogue on Friday between the French prime minister and representatives of the Giletts Jaunes, even if reached no results. Another dialogue was held between former French president Francois Hollande and the movement's leaders as well.
However the former and current president's stance was completely different on the protests as they adopted dialogue as a mean to deal with protesters, although their dialogue is not associated with reaching an agreement and allegiance it's the first step to find a common ground.
Macron regard his predecessor as responsible for what the country has come to, while the former president (Macron was a minister in his cabinet) responded that Macron was partly responsible as well, and that the one most responsible for all this is the current government, which is applying very right-wing policies that has raised fuel prices and abolished taxes on wealth, a traditional dispute between left and right in France (the tax system).
It's important to note that the dialogue with the former socialist president was attended by all representatives of the movement, while only two of them went to the prime minister's dialogue. One went half an hour late and then withdrew from the meeting after the officials rejected his request to broadcast the talks live.
Certainly, Macron's performance and his reactions are part of the problem. The man is convinced that France has been delayed by the failure of former presidents to make any reforms after the first protest. So he insists on his stance until the end, and it is the same for the demonstrators who insist until the end to overthrow his decisions.
Who will win a new battle that every day journalists and professional researchers are studying away from accusations of ignorance that the Muslim Brotherhood is behind this, or that these problems need to be stopped harshly (repressed) by the authorities, some should not reflect the context of the reality he lives on a democratic society and a state of law.