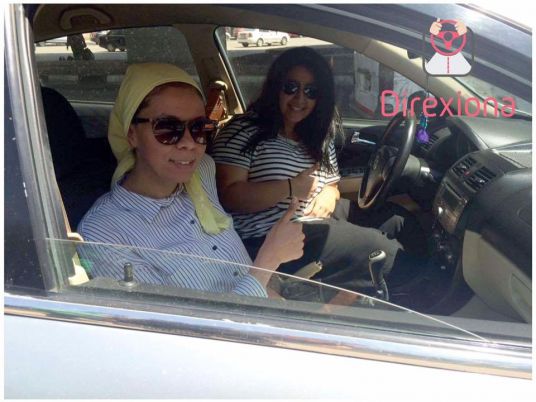 Worry concerning road safety and sexual harassment in Egypt's jammed streets leave many ladies with a saddle of waiting around for male relatives or friends to teach them how to drive. Aiming to grant girls the opportunity of a safe platform to learn driving, Nayrouz Talaat launched Direxiona — a driving school that uses female instructors to cater to their needs.
Girls interested in the hunt for professional driving classes are asked to sign up online, by filling in their driving level and address location. Direxiona then matches clients with suitable female driving instructors, based on their location and time schedule.
"I want to empower as many girls as possible and make them feel confidently independent during their learning process on the road, and even afterwards," Talaat said.
Talaat's eagerness to battle the social shame around girl's quality of driving, and to steer away from the frowned-upon act of driving next to a male stranger, encouraged her to launch the website in 2016.
"Even though I'm a journalist, I was inspired by the business stories I used to work on regarding entrepreneurship. Many successful businesses kicked off over the past few years and I felt jealous [giggles]; I wanted to start my own too," Talaat said.
Direxiona currently has more than 150 girls signed up, with ages ranging from 19 to 30 years.
After conducting market research, Talaat found that ladies who wanted to learn how to drive couldn't do so due to the limited number of female instructors available.
Naira Sherif, 23, a business marketing graduate, finds the idea "different and very promising."
"The chances of girls getting sexually harassed by male instructors are really high, so I'd feel more comfortable if it was a female instructor," Sherif said. She added that the shift to a new market like Direxiona's platform can help prevent girls from experiencing nuisance acts.
Sherif also likes that similar platforms can help decrease unemployment levels among females. "If a woman has no job but knows how to drive, why not make use of that?" she said.
Maintaining the notion of peer economy, Talaat's startup does not own cars, yet makes sure either the instructor or clients have cars to be used throughout the course.
Talaat conducts personal interviews and holds driving tests and training for instructors willing to join the platform. She also ensures that the pair up with the client is compliant with their needs, as well as with their social background.
Depending on the number of sessions chosen and how fast clients learn, Direxiona offers a range of packages for ladies to pick from.
Rana Samir, however, believes that the aspect of a stranger sitting next to her, be it a man or a woman is unacceptable for her parents, so Direxiona won't really be of use in her case.
For Farah Salama, Direxiona is a "real life illustration" of women's empowerment. "It's about time we break free from male dominant markets. Women can do just about anything men can, run a business, teach driving — it's not a monopoly," Salama, 36-years old, said.
Amira Magued, on the other hand, is rather concerned with the macro picture of gender segregation in Egypt arising from similar platforms.
"Segregating based on gender means we are adapting to a reality with a huge issue like sexual harassment, a reality that should be changed," Magued said, adding that no discrimination in employment should be taking place.
Talaat didn't fall into that pitfall, however. She ensures male employment in the team, but in non-instructor roles.
"Ideally, we should be able to have any driving coach and get in any taxi without considering gender, but unfortunately we do not live in an ideal world," Talaat said. She was referring to another example of this type of service, the 'pink taxi,' which provides transportation services for women by women.
While Direxiona covers Egypt's capital, Cairo, it has recently expanded to clients in Alexandria as well.
You can check out Direxiona's Facebook page here: https://www.facebook.com/Direxiona/