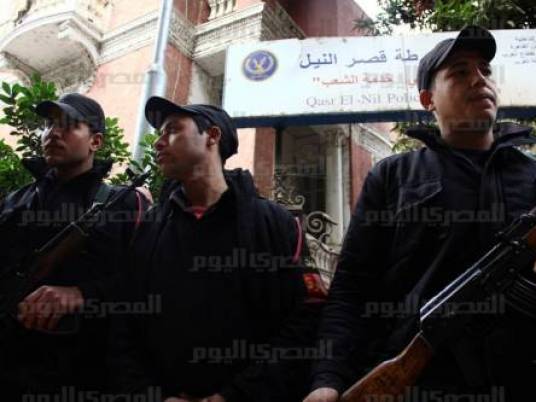 On Sunday afternoon, Mohamed Emeira, investigations assistant at Qasr al-Nil Police Station, stood some 500 meters from ongoing clashes between protesters and Central Security Forces on the Nile Corniche. He began organizing police lines and assigning security tasks, signaling an end to their strike.
"Let's get back to work. All the drivers of patrol cars get behind the wheel once again and protection teams head back to your positions. I do not want to see a policeman outside the station," Emeira barked.
Egypt's security forces appear to have returned to the streets a week after intermittent and unorganized strikes by police and the CSF across parts of the country grabbed media headlines. According to media reports, about 60 police stations and 10 CSF camps had taken part.
Local media, however, sensationalized the strikes, exaggerating the numbers and scope of the strike action. Based on conversations Egypt Independent had with leaders from the various striking groups, police officers and non-commissioned policemen were divided in their demands and often tenuously organized.
The strikes came amid widespread unrest and violence, and an ongoing and unheeded civil disobedience movement in Port Said. On 6 March, CSF troops in Ismailia refused to deploy to Port Said to relieve colleagues days after violent police-protester clashes left at least five people dead and hundreds more injured.
Calls for escalation spread among police ranks as stations in greater Cairo and Lower Egypt began shutting their doors on 7 March. More police stations in Upper Egypt and CSF camps in Sinai and Suez Canal cities followed suit.
Following a highly contentious court verdict on 9 March — which saw the death sentences of 21 civilians confirmed in relation to the Port Said Stadium disaster, while only two police officers received prison sentences — groups of Ultras Ahlawy members set fire to the Police Club and the Egyptian Football Association headquarters, both in Cairo.
The past few months have seen many protests target security directorates and police stations across Lower Egypt, indicative of mounting pressure for justice against police violations and substantial ministry reforms.
"It's the media that has spoiled the image of police officers in the public eye," Emeira told Egypt Independent. "But today, we have ended our strike to prove to the people that we are patriotic and love our country. We want to show them we do not have so-called factional demands. Our issues are functional ones."
The groups on strike have expressed a common grievance, namely that they refuse to be swept up in political games between the government and protesters. Growing discontent from within the Interior Ministry's ranks has resulted in several apparent breakdowns and five successive ministers attempt unsuccessfully to get the police apparatus back on its feet.
But there have been no substantial changes since the 18-day uprising, and police continue to violently suppress protests. Since November, when relations between an intransigent Brotherhood presidency and the opposition spiraled downward, about 70 people have been killed in clashes with the police, rights groups estimate.
Yet Interior Minister Mohamed Ibrahim — who faces heated criticism for the rise in protester causalities, torture cases and illegal detentions at the hands of the police — continues to vilify protesters and victimize the police.
The scope of the strikes
While it is difficult to gauge the impact or scale of the strikes, it is problematic to refer to recent work stoppages as a general police strike.
Media pundits referred to the strikes as the first since the 1986 CSF strike, which was staged in protest against mistreatment inside their camps. But no entire sector within the ministry's 37 departments adhered to the action.
The past fortnight saw a handful of police stations and CSF camps — belonging to sectors that deal directly with protesters — go on strike. Even with these departments, however, the scope of the strike was limited, with a total of 8,000 out of 300,000 CSF officers and conscripts taking part.
This, in part, is due to the lack of a police federation or body that effectively unifies police officers and other ranks. The strikes in fact were discontinuous and haphazardly networked.
Ahmed Abdel Monsef, a policeman in Assiut and coordinator for the 7 March Officers Movement, named for the day they began striking, claimed to have initiated strike calls. He said strikers across Egypt communicated via telephone or Facebook, which makes it difficult to accurately determine the numbers that participated.
"We first thought about the strike weeks ago on Facebook, when I was discussing the idea with two of my colleagues," he stated.
Abdel Monsef said the highest-ranking policeman was a lieutenant colonel. "The police stations decided to strike one after the other — it was a domino effect. We put the idea to discussion and policemen responded," he said.
The current goal of the 7 March movement, he explained, is to create a state of mobility among police officers, which will take time. But not all those who seek to build a network among police officers are on board.
Lieutenant Colonel Ashraf al-Banna, who earlier proposed the establishment of an officers' federation, flatly rejected the idea. "Even though I was suspended for three months after I called for the establishment of a syndicate for officers, I reject the idea of going on strike," he said.
"How can a police station go on strike? Where is societal responsibility? I called for setting up a union to regulate the relationship between the ministry and officers. So how can I ignore all that and call for strike?" he asked.
Organizational woes
On 7 March, the striking police officers issued demands, including the dismissal of the interior minister and the endorsement of a new salary system.
They also made calls to be left out of politics and to return to fighting crime.
Abdel Monsef argued the interior minister has thrust police into politics. "He sometimes orders the [CSF] to break up industrial protests and has them confront protesters opposed to the president. This drags us back to the pre-revolution scenario, when the government resorted to security solutions and violence instead of political or administrative solutions," he said.
He added that former Interior Minister Ahmed Gamal Eddin was able to distinguish between political and criminal work, stressing he did not serve a particular administration.
At a news conference following the suspension of the strikes, Ibrahim, defending himself against internal and external criticism, claimed that only 5 percent of officers within the ministry wanted his resignation.
There is truly no general consensus within the ministry, due in part to the gap between low and intermediate-ranking policemen and the higher ranks. Even within the same ranks there are disputes over salary discrepancies.
"The 7 March movement wants a fair compensation system," Abdel Monsef stated. "It is not fair to have two officers who have the same rank get different salaries just because one of them works for a department that has better financial resources. Salary differences create sensitivities."
Lieutenant Colonel Ahmed Meshaly, former coordinator for the General Coalition of Police Officers, expressed reservations about the tactics and demands of the 7 March movement. He argued the main problem is organizational.
Meshaly blamed former Interior Minister Mahmoud Wagdy, the first to assume the post after the uprising, for abolishing military trials for officers. He said this led to chaos, with officers failing to be punctual and higher-ranking officials unable to exercise full control.
"What does it mean for police to refuse to secure a public establishment? Most of the protests are staged in front of the presidential palace or governorate security directorates. As a policeman, you are required to fulfill your duty, and by doing so you are not serving the regime of [President Mohamed] Morsy or any other," said Meshaly.
This piece was originally published in Egypt Independent's weekly
print edition
.