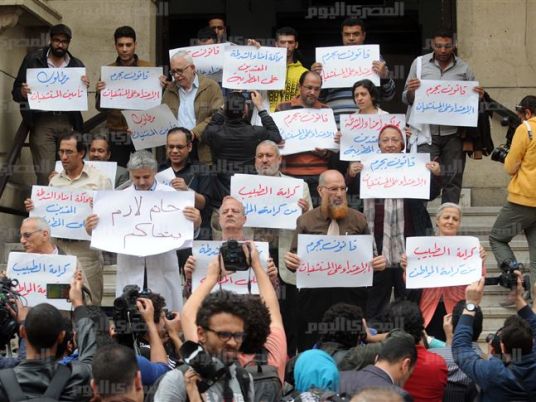 The Doctors Syndicate has called on parliament and the government to expedite the review of a law stiffening penalties for attacks on medical establishments, their staff and patients.
The draft law was put forward by the syndicate a week ago in order to confront the problem of frequent physical assaults at hospitals and medical facilities in Egypt.
Speaking to Al-Masry Al-Youm, Ihab al-Taher, the syndicate's secretary general, said on Saturday that the syndicate submitted two letters last week, one for the prime minister and the other for parliament. They included a draft law prepared by the syndicate to guarantee the secruity of medical facilities and their staff, with a request that the draft be reviewed prior to being approved by parliament.
However, according to Taher, the syndicate has not yet received any response from either the government or parliament.
He called on parliament to expedite the passing of the bill, saying it offers a solution to a real problem that affects hospitals, their staff and patients.
In the aftermath of an attack at Matariya hospital in January, several MPs expressed support for legislation that stiffens penalties for those who attack medical institutions,
In the much-publicized incident in Matariya, two doctors were assulted and then arrested by two police officers while on duty in the hospital, according to the doctors' account of events. They claim that one police officer presented with a minor injury to his head, demanding that it be officially recorded as a serious injury. When the doctor refused to do so, the policemen allegedly attacked him and his colleague, taking them to the police station.
The incident sparked angry protests from the syndicate and calls for strike action, bringing it into conflict with both the Interior Ministry and the Health Ministry. Among the demands of doctors since then has been legislation to increase penalties for any violent attacks at medical facilities.
The draft law states that those found guilty of such attacks should jailed for no less than a year and be fined LE10,000, in addition to value to any damage done.
If more than one person is invoved in conducting an attack, the fine could be as high as LE100,000. Attacks involving weapons would carry a possible jail sentence of three years.
Verbal assaults or rude gestures against medical staff, meanwhile, would result in a one-year prison sentence and a fine of between LE5,000 and LE10,000. Attacks that result in physical injury would be punished with three years in prison with labor and a fine of between LE10,000 and LE20,000.
A group attack involving weapons, meanwhile, would be punished with between five and 10 years and a fine of no less than LE20,000, assuming severe injuries were caused, as defined in article no. 241 of the Penal Code.
The draft also suggests the death penalty for anyone who kills a person during an attack in a medical facility.
Edited translation from Al-Masry Al-Youm