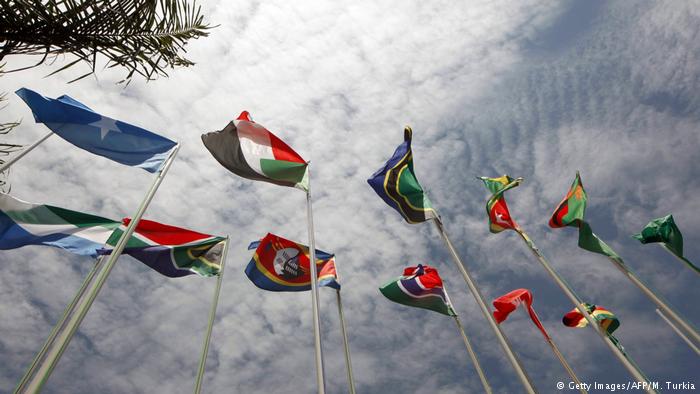 All 54 African ambassadors to the United Nations decried Donald Trump's reported remarks as "outrageous, racist, and xenophobic" on Friday, a day after US media reported that Trump had referred to African states, Haiti, and El Salvador as "s***hole countries."
The UN diplomats met for an emergency session before issuing a joint statement to demand a "retraction and an apology" from the US president.
"For once, we are all on the same page," an ambassador told the Agence France-Presse news agency.
The ambassadors also thanked American citizens "from all walks of life who have condemned the remarks."
On Thursday, Trump was meeting lawmakers to discuss a proposal for an immigration plan when he reportedly grew agitated as the conversation turned to citizens of Haiti and El Salvador, and immigrants from the African continent.
"Why are we having all these people from s***hole countries come here?" he asked, according to multiple sources present at the White House meeting.
The reports prompted outrage and accusations of racism from people in the US and the rest of the world. Trump later denied using the vulgar phrase, but said he used "tough" language at the meeting.
Trump's alleged comments were met with condemnation from the United Nations.
"If confirmed, these are shocking and shameful comments from the president of the United States. Sorry, but there is no other word one can use but 'racist,'" said Rupert Colville, spokesman for UN rights chief Zeid Ra'ad Al Hussein.
"You cannot dismiss entire countries and continents as 's***holes' whose entire populations, who are not white, are therefore not welcome," he added.
'Particularly upsetting'
Trump's alleged statement also prompted outrage from the African Union (AU), the organization that includes all the 54 African UN states plus Western Sahara, which is not recognized by the UN.
The AU representative said they were alarmed by Trump's "very racist" comments.
"Given the historical reality of how African Americans arrived in the United States as slaves, and the United States being the biggest example of how a nation has been built by migration — for a statement like that to come is particularly upsetting," said Ebba Kalondo, spokeswoman for AU chief Moussa Faki.
Botswana and Senegal have summoned US ambassadors in their respective countries in protest of Trump's remarks.
'Haitians don't deserve such treatment'
Haiti, which on Friday marked the eighth anniversary of the disastrous earthquake which claimed around 220,000 lives, also summoned the US representative for an explanation.
Haiti's ambassador in Washington has also asked for an apology, as Trump reportedly specifically questioned the protections granted to Haitian immigrants after the earthquake.
"Haitians don't deserve such treatment," said Paul Altidor, the Haitian ambassador. "Haitians should not be seen as a bunch of immigrants who come to the United States to exploit US resources."
The president of El Salvador, Salvador Sanchez Ceren, tweeted that Trump's statement struck a blow "to the dignity of the Salvadoran people."
El Salvador has also sent a formal letter of protest over Trump comments.