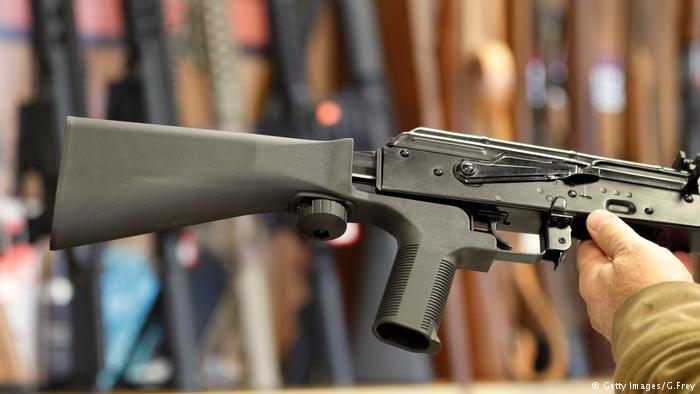 The US president has signed a memorandum ordering a ban on bump stocks used to make semi-automatic rifles fire like automatic weapons. The man who killed 58 concert-goers in October 2017 in Las Vegas used a bump stock.
US President Donald Trump on Tuesday ordered the Justice Department to write new regulations that would "ban all devices" like bump stocks used in the 2017 Las Vegas concert massacre.
The announcement came after a former student shot and killed 17 people in a high school in Florida on Wednesday.
Trump's announcement:
Trump said at a White House ceremony honoring US public safety officers: "Just a few moments ago, I signed a memorandum directing the attorney general to propose regulations to ban all devices that turn legal weapons into machine guns."
"We must move past cliches and tired debates and focus on evidence based solutions and security measures that actually work," he said, adding the regulations would be drawn up "very soon."
A Justice Department spokesman later said: "We look forward to the results of that process as soon as it is duly completed."
How people reacted
Democratic Senator Chris Murphy took to Twitter to point at a growing fear among lawmakers about inaction on gun control, saying: "Sign after sign this week that we've hit a fulcrum point in this debate where politicians are … scared of the political consequences of inaction on guns."
But Sean Caranna, executive director of gun rights group Florida Carry, showed contempt for Trump's directive, saying: "You can't just legislate away evil."
Why this matters: President Trump has faced increasing pressure in recent days from gun control advocates to pass stricter laws following a mass shooting at Marjory Stoneman Douglas High School in Parkland, Florida.
Advocates called for a ban on bump stocks after Stephen Paddock, a 64-year-old former accountant, used them to fire rapidly into a crowd of 22,000 concert-goers in Las Vegas in October, killing 58 people and injuring more than 500.
US Senator Dianne Feinstein introduced a bill to ban the modification in October, but the proposal floundered.
What are bump stocks: US law prohibits the sale of automatic weapons made after 1986. Bump stocks allow a shooter to modify a semi-automatic weapon to fire at a similar rate to an automatic weapon. There were no reports of a bump stock being used in the Florida school shooting.
Why is Trump acting now: Momentum is building for gun control measures after the Parkland, Florida shooting. Several American celebrities, including Oprah Winfrey and George Clooney, have donated hundreds of thousands of dollars to a mass demonstration in Washington DC urging Congress to take action. The march, organized by survivors of the Parkland shooting, is slated for March 24.