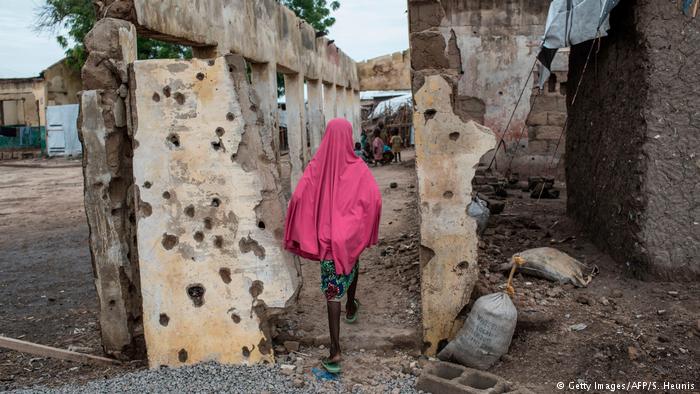 As many as 76 girls were rescued late on Wednesday, two days after they were believed kidnapped by Boko Haram militants, Nigerian media reported.
Citing a spokesman for Ibrahim Gaidam, the governor of the northeastern state of Yobe, the Daily Post said the girls had been "rescued by gallant officers and men of the Nigerian army from the terrorists who abducted them." The newspaper said they were picked up from a village on the border between Borno state and Yobe.
The Reuters news agency said the military also recovered the bodies of two girls, and that at least 13 students were still thought to be missing. Sources told Reuters that 91 people had been unaccounted for after a roll-call at their school on Tuesday. Other news agencies, citing local officials, put the number of missing at between 50 and 111.
The girls had only been confirmed as absent just a few hours earlier, after an assault by suspected Boko Haram militantsat the Government Girls Secondary School (GGSS) in the town of Dapchi on Monday night.
The ambush sparked fears of an attack like the one in Chibok in 2014, when 276 girls were abducted.
Yobe Education Commissioner Mohammed Lamin told German news agency DPA that the girls at the boarding school and their teachers fled at the sounds of automatic gunfire, but that 50 students had not returned from hiding in the bush.
'We ran for our dear lives'
"As we sighted the [suspected] Boko Haram members, all of us ran for our dear lives. Some students entered unknown vehicles parked outside the school. Our fear is that Boko Haram disguised themselves and abducted them in the name of rescuing the students. The vehicle took them to an unknown destination," a GGSS student from Dapchi told DW.
Alhaji Kalwuri Karasuwa, the father of one of the missing girls, spoke to DW about his worst fears being confirmed when relatives went to the school to find the pupils after the attack: "When they went they found 15 out of 16 girls [they had gone to collect]. Unfortunately, the missing girl is my daughter Maryam. I only pray that she comes back safely. We don't know whether she ran away to the bush or whether Boko Haram militants abducted her."
Boko Haram, an Islamist insurgency movement that has terrorized northeastern Nigeria and neighboring countries for more than 15 years, made international headlines in 2014 when nearly 300 girls were abducted in Chibok. Since then, scores have escaped or been rescued by security forces, but many remain, forced into sexual slavery or marriage with the terrorists. The group earlier aligned itself with the so-called "Islamic State" (IS) terror group that began in Iraq and Syria.
'Don't pay ransom'
News of the attack in Dapchi has left many confused, especially since the Nigerian government has declared a total defeat of Boko Haram on several occasions, most recently this January.
Nigerian political scientist Sylvester Odion Akhaine explained in an interview with DW that there were several factors at play in the confusion about Boko Haram's continued presence in Nigeria, and why kidnapping girls may be a lucrative business for terrorists.
"You have factions within Boko Haram, and it's possible that this is a different faction, and these girls are going to be used for bargaining — we've seen that before. And that's why some say 'don't pay a ransom' when you have crises like that because there will be no end to it."
Akhaine, an associate professor at Lagos State University, also suggested that, for the governments of President Muhammadu Buhari and his predecessor Goodluck Jonathan, declaring defeat over Boko Haram "has good propaganda value."
"There have been several announcements of decisive defeat, only to see a resurgence [of Boko Haram]," Akhaine said.