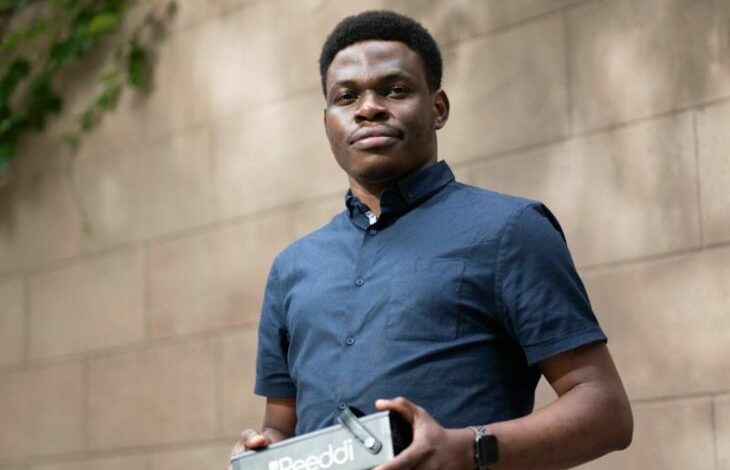 CNN
 —  Although Nigeria has vast energy reserves, more than
92 million people
in the country live without access to electricity, according to the International Energy Agency. Those who are connected to the electricity grid have to contend with frequent power cuts, which cost the country
$28 billion a year
– almost two percent of its GDP.
As a result, many Nigerians rely on petrol and diesel to fuel the generators that power their homes and businesses.
But generators are noisy, expensive, and pollute the air. Fuel shortages were a key issue in Nigeria's recent presidential election and have made it increasingly difficult to run generators.
Entrepreneur Olugbenga Olubanjo is offering an alternative. His company Reeddi rents out small, lightweight solar-powered batteries called "Reeddi Capsules" that can power devices including TVs, laptops and refrigerators.
Reeddi was one of the finalists for Prince William's Earthshot Prize, which recognizes ambitious efforts to fix environmental problems. In a podcast, the Prince of Wales said that "the capsule will have a huge influence on communities where energy poverty is a big deal."
"I felt obliged to do something"
Olubanjo grew up in Nigeria and says that during his time studying engineering at the University of Ibadan, he often had to work on his assignments while contending with power cuts. As a postgraduate, he studied at the University of Toronto, in Canada. "For the first time in my life, I had access to electricity, and I saw my own productivity quadruple," Olubanjo said.
Often, when calling family and friends back home, their power would go off, highlighting the energy inequality. "As I had a deep understanding of the community, I felt obliged to do something," he said.
Reeddi Capsules can be bought along with a solar panel for 199,000 Nigerian Naira (around $430) or rented from "mom-and-pop shops" for 24 hours for around 50 cents, charged using solar panels operated by Reeddi. Olubanjo says one battery can power a TV for around five hours, or a 15-watt fan for 15 hours.
That makes it considerably more expensive than using mains electricity, but it's often cheaper than running a generator.
Joel Jewell, a trader in Ogun State, says he uses the capsule most days to charge his laptop and phone. Without it, he is forced to rely on his generator during the regular power cuts. "We sometimes don't (even) get two hours of power supply," he said. "And Reeddi coming is a kind of an answer to prayer."
Currently, the batteries are only available in Nigeria, where Olubanjo says they are used by more than 1,600 people, mainly in Lagos and Ogun State. But across the continent, more than 600 million people lack access to electricity, according to the International Energy Agency.
Olubanjo says organizations in countries including Uganda, Ghana and South Africa have expressed an interest in the Reeddi Capsule. "We're going to try our best to optimize what we have in Nigeria before we scale it to that broader part of Africa," he said.
Reeddi is not the only company offering battery packs as an alternative to generators. UK-based Mobile Power rents out batteries in countries including Nigeria, Zambia and Ghana.
Anita Otubu, a senior director of Sustainable Energy for All – a UN-affiliated organization that works to improve access to energy – says "companies like Reeddi are key contributors to reducing Nigeria's access deficit."
But she adds that if Reeddi is to scale up its business, it will need to make the battery rentals cheaper "or increase the capacity of each system, to enable Nigerians to have value for money when they purchase such systems."
For Olubanjo, the company's biggest challenge is keeping up with demand, with each batch of batteries taking three to four months to produce. But he is confident Reeddi can have a wider impact.
"The goal is to make the future (brighter) for a lot of Nigerians and Africans," he said.