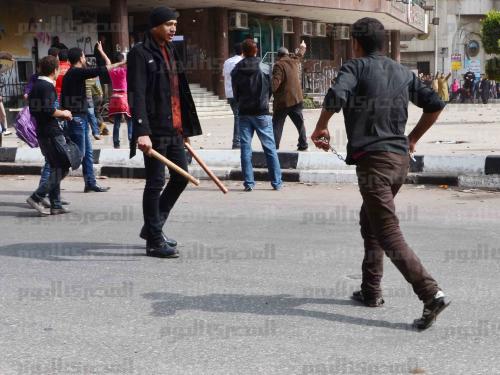 Dozens of people rallied in Talaat Harb Square earlier Thursday to protest the release of Mohamed Saqr, a low-ranking policeman charged with running over a protester, Hossam Abdallah, in Mansoura, on a bail of LE5,000.
The protesters chanted against the Interior Ministry and raised banners with the photos of former Interior Minister Habib al-Adly, who is currently in prison, and current Interior Minister Mohamed Ibrahim next to each other.
Saqr was ordered arrested Monday for four days pending investigations.
Saqr was originally ordered detained for a further 15 days pending investigations, but the Daqahlia Security Directorate requested the cancellation of the decision after policemen and Central Security Forces announced a sit-in inside their camp to protest the decision.
The concerned court examined the request and decided to release Saqr on bail.
Anti-riot police in Daqahlia had fired tear gas Friday to prevent protesters from attacking the governorate headquarters, and during the clashes, a police vehicle ran over Abdallah, while another person was killed by live bullets.
Abdallah was watching a demonstration against President Mohamed Morsy and the Muslim Brotherhood when he was killed Friday.
The victim's brother submitted information about the vehicle that ran over Abdallah to the prosecution.
Meanwhile, dozens of policemen and Central Security Forces demonstrated in front of the Mansoura Court Complex in Daqahlia Thursday to call for the release of Saqr while the request for his release was being reviewed.
The policemen said they reject the Brotherhoodization of the Interior Ministry and raised banners reading, "Where are the laws for the protection of the police?" and "The police serve the people and not the Brotherhood."
Edited translation from Al-Masry Al-Youm