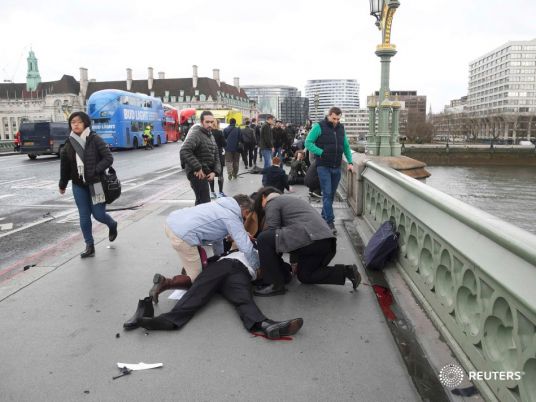 Egypt's Foreign Ministry and Al-Azhar University issued statements on Wednesday night "strongly condemning" the deadliest terror attack in central London in 12 years.
British Police have arrested seven people in the investigation of the attack, believed to be by a lone-wolf who killed three people and injured more than 40, Reuters reported.
Prime Minister Theresa May revealed Thursday morning that the attacker was British born and was previously investigated by intelligence services for extremist behavior, but had not been "not part of the current intelligence picture," May said in an announcement to the House of Commons.
In an official statement by the Egyptian foreign ministry late on Wednesday, Ahmed Abu Zeid, the ministry's spokesperson expressed condolences to the families of the victims, saying that such events lead to a reaffirmation of the dangers of terrorism, which targets everyone regardless of race or religion.
Abu Zeid added that the fact that terrorist organizations can invade communities with strong security and stability shows that a "comprehensive and concerted approach is needed to confront terrorist organizations; one that involves intellectual, financial and security aspects, and concerted efforts to stop the spread of the destructive thought adopted by these oppressive groups," the statement read.
Wednesday's attack in the heart of London killed one police officer and two civilians. The attacker, an unidentified man who smashed his car into pedestrians across Westminster Bridge before stabbing a police officer outside the UK parliament, was shot dead by police.
UK Prime minister Theresa May described the attack as "sick and depraved", but said it would not undermine British values.
Egypt's Al-Azhar also strongly condemned in a statement the terrorist attack that took place outside the UK Parliament on Wednesday. It stressed that the shedding of innocent blood and terrorizing the innocent is rejected by all divine laws, values, humanitarian principles and international law.
In a statement, Al-Azhar, the world's oldest seat of Sunni Islamic learning, further expressed its condolences to the British government, citizens and to the families of the victims, wishing the injured a speedy recovery.
The statement reiterated the calls for concerted international efforts to work out a global strategy to confront terrorism, which threatens the entire world.
No group has yet claimed responsibility for the suspected terror attack.
Wednesday's attack is London's deadliest attack since four British Islamists killed 52 commuters and themselves in suicide bombings on the city's transport system in July 2005.