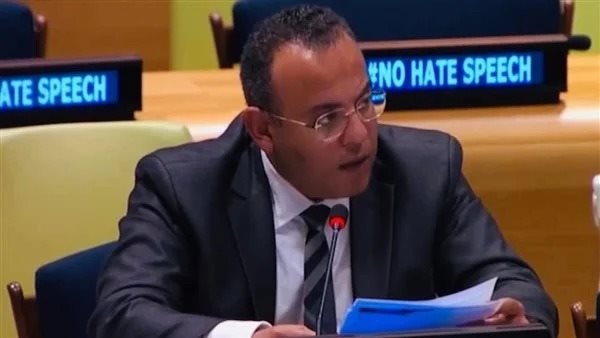 Egypt has chosen Ahmed Fahmy, a member of Egypt's mission to the United Nations in New York, to succeed Ambassador Bassam Rady as the official spokesperson for the Egyptian Presidency beginning Tuesday.
His first statements, on Monday, were full of thanks and praise for his predecessor, Rady, saying: "Thank you very much, Your Excellency, the great ambassador. I had the honor of working with you and learning from you on the human and professional levels at the highest level. I wish you success and continuation of the path of excellence and success, God willing."
Egyptian President Abdel Fattah al-Sisi issued a republican decree appointing a number of ambassadors at the Foreign Ministry, new ambassadors in a number of countries, and a number of ambassadors as consul general.
The diplomatic movement witnessed the appointment of Rady as Ambassador Extraordinary and Plenipotentiary to the Government of Italy and as a non-resident ambassador to the Republic of San Marino.
Fahmy has held the position of political advisor at the Permanent Mission of Egypt to the United Nations in New York, USA, where he assumed responsibility for a number of important political files presented in the Security Council and the United Nations General Assembly and its main committees.
He also worked at the Consulate General of Egypt in London and the Egyptian Embassy in Abidjan, and was an advisor in the Office of the Official Spokesman for the Presidency of the Republic.
He holds a Bachelor's degree in Economics from Cairo University in 1999, and a master's and PhD degrees in international relations and political science from the United Kingdom.