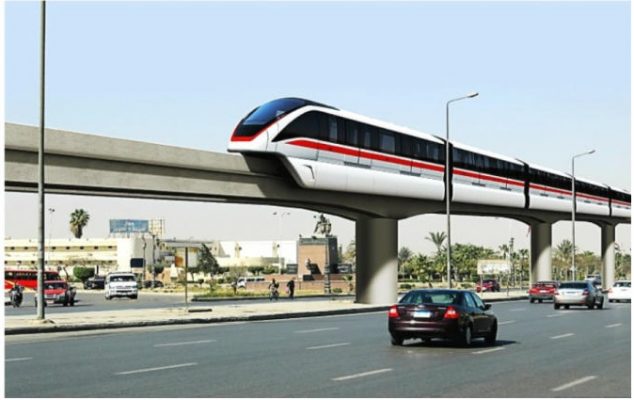 The Egyptian Parliament's Transport and Communications Committee on Sunday approved a 1.8 billion euro loan facilitation agreement between the National Authority for Tunnels and GB Morgan Europe Limited and other financial institutions, allocated for constructing  monorail lines at the New Administrative Capital and 6th of October city.
The Undersecretary of the Transport Committee Rizk Ragheb Daiallah, who chaired the meeting, said that the parliament values the monorail project and called for its swift implementation.
"Members must have sufficient confidence in how to repay the loan without the state bearing any burdens, taking into account that the Egyptian citizen does not bear any financial burdens," he advised.
Daiallah requested that the committee's members provide a full feasibility study to work on paying the loan, as well as construction contracts.
Once the study was provided, Daiallah said it the parliament fully approved it.
The US$4.5 billion monorail project is the first of its kind in Egypt and includes two lines: a 43 km-long rail set to extend from 6th of October City to Giza, and another rail connecting Cairo's New Administrative Capital to Nasr City at a length of 54 km.
The 6th of October project is slated to begin operating in 2023 and includes 12 stations—New October Station, Industrial Zone Station, Sadat Station, Sixth of October City Authority Station, Engineers Association Station, Nile University Station, Hyper One station, Cairo-Alexandria Desert Road, Mansouriya Station, Mariouteya Station, Ring Road Station, and Nile Valley Station.
The project linking Cairo's New Administrative Capital is scheduled for completion in 2022.
The first phase of the October project began on the Cairo-Alexandria desert road, and will pass by Sheikh Zayed, Al-Wahat road and Media Production City.
The monorails will connect residents outside of Egypt's capital with the city, cutting down on traffic congestion and automobile pollution.
A joint venture between Bombardier, Orascom, and Arab Contractors was formed last year for the design, construction, and maintenance of the monorails.